On Dussehra, 1,000 traders place kumbh in offices at SDB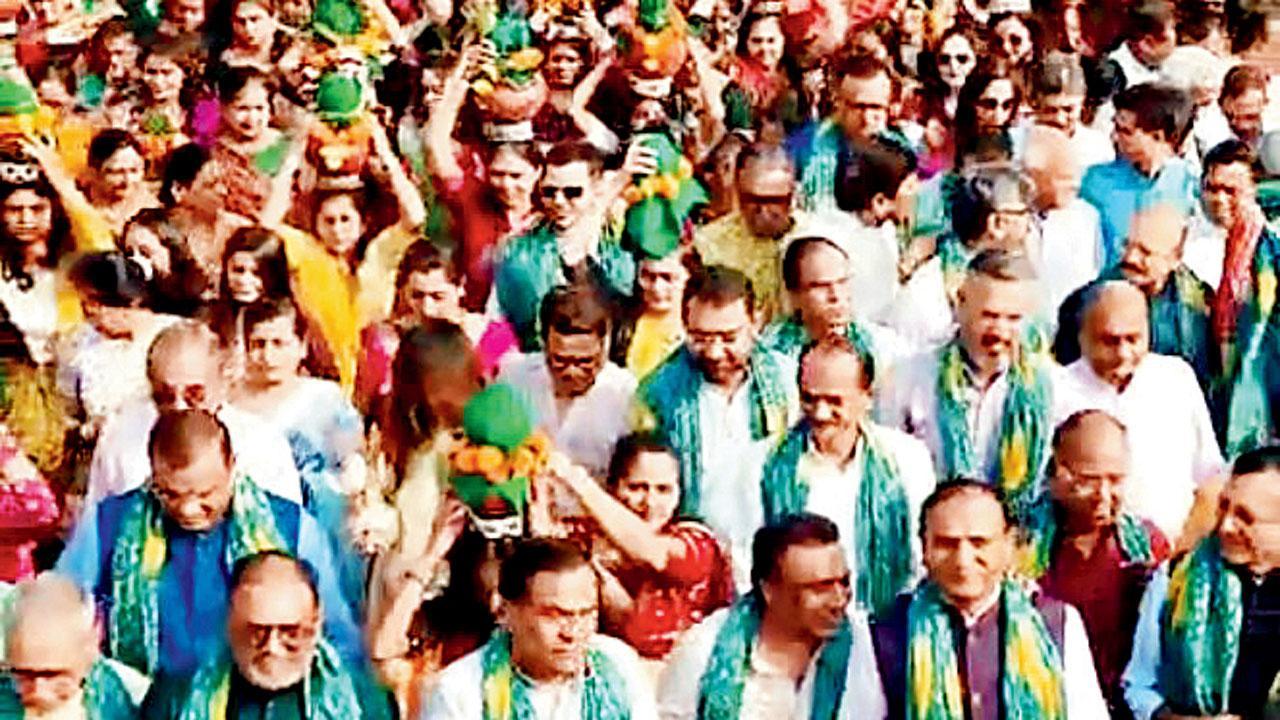 On the occasion of Dussehra, on Tuesday, more than 1,000 diamond traders placed the kumbh in their offices at Surat Diamond Bourse (SDB) and offered puja-archana. Sisters and daughters of the traders along with other women entered SDB singing songs carrying the kalash on their heads. After that, the kumbh was placed in the offices and worshiped.
Media Convener of SDB, Dineshbhai Navadiya, told mid-day that 986 offices had already registered for the puja and kumbh placing, but then, at the last minute, other traders too decided to sign up, which increased the number to over 1,000. There was a half-km-long procession that had started from the gate of Dream City to the V-2 gate of SDB.
Priests welcome the diamond traders and their families at the gates of SDB
A total of 5,000-6,000 people were part of the celebration on Tuesday at SDB. Eleven brahmin priests stood at the V-2 gate and chanted scriptures and prayed for peace, prosperity and good health of all. After that, tea, water and fafda-jalebi was arranged for everyone.
Union Minister Darshanaben Jardosh and Gujarat BJP president C R Patil were present on the occasion. Dineshbhai said, "This is a three-phase programme. Everyone has placed the kumbh in their offices on Dussehra. On November 21, after Labh Pancham, the Bourse will be officially opened, along with offices. After that, Prime Minister Narendra Modi will inaugurate the Bourse on December 17.
Also read: Diamond traders dump Mumbai for sparkling future in Surat
"Just like Sardar Patel's Statue of Unity is a tourist destination, there is a possibility that Surat Diamond Bourse will also be developed as one. Earlier, America's Pentagon was the world's largest office building, now Surat Diamond Bourse has got that honour," Dineshbhai explained.