Mumbai University resolves issues of 13 students following protest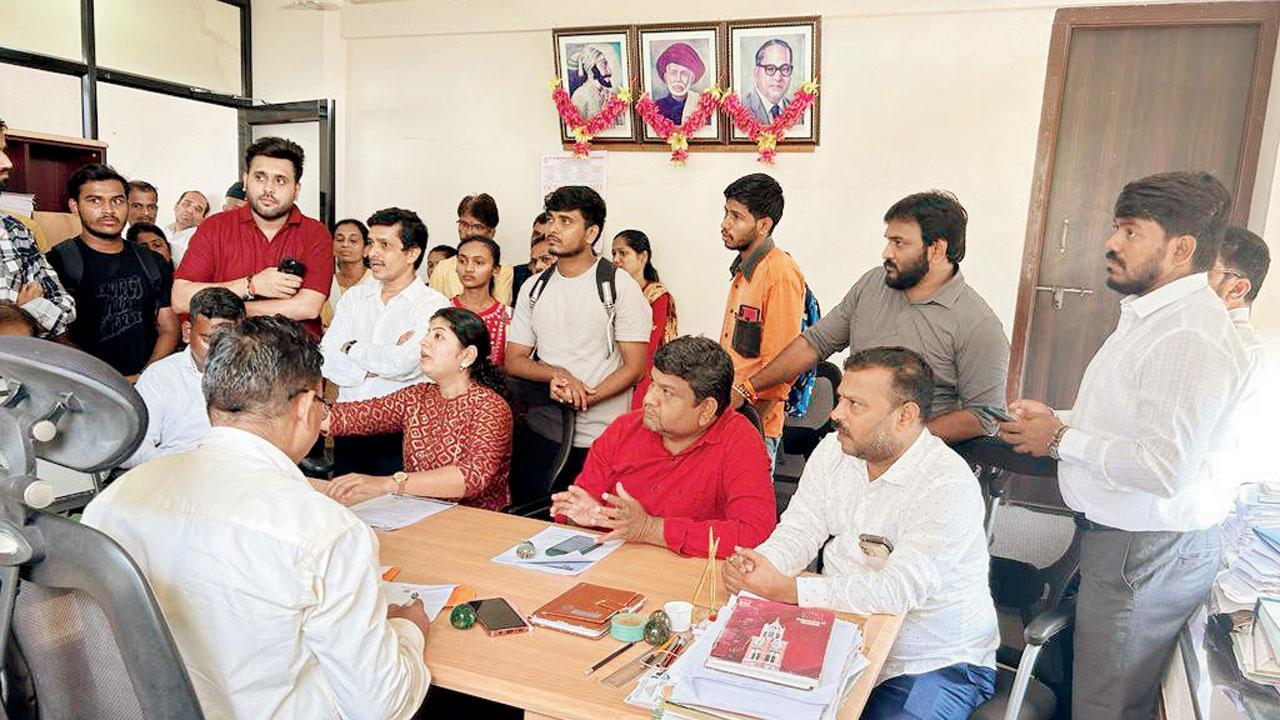 Yuva Sena activists and former Senate members of Mumbai University staged a sit-in protest inside the office of the director of examinations at the Kalina campus on Thursday, holding him up in his own office for around two hours. The protest ended only after the director of examinations and his staff resolved the problems of as many as 13 students.
Examination season at Mumbai University, for the past decade, has been a time of pandemonium and anxiety for thousands of students. The university's reputation has been damaged due to repeated glaring errors in question papers, wrong papers being dispatched to the exam centres and centre allocation goof-ups. The delay in announcing results and issuing hall tickets has become a regular affair at Mumbai University. The result time proves to be stressful too, with delays in the announcement of results every year. Seeking photocopies of answer sheets and applying for revaluation is also a herculean task. Students have even reported errors in their mark sheets.
The matter began with Roshani Panchal, a student who was marked absent in one of her exams (Alternative Dispute Resolution) in LLB Semester 10 conducted in May 2023. In July she submitted the attendance sheet of the day and proved that she was present for the exam. After much follow-up and with the help of former Senate members, she was shown her answer sheet in September, and it showed that she had scored only 25 marks. Not satisfied with the score, she wanted to apply for revaluation but was denied a photocopy of her answer sheet, citing she had missed the deadline to apply for revaluation.
"Panchal has been following up on her case and running around. Last week she was yelled at by the staff at the examination centre and told she would not be given the photocopy of her answer sheet till October 15. On Thursday, after we protested and threatened to intensify our agitation, they got the photocopy before us and in ten minutes… how? Which means they were harassing the girl and making her run around unnecessarily, wasting her time," said Pradeep Sawant, former Senate member and Yuva Sena leader.
Also read: Mumbai: Animal lovers oppose ban on feeding near Mantralaya
Taking on Panchal's case, Yuva Sena activists barged into the Mumbai University's examination centre, into the office of Dr Prasad Karande, director of the Board of Examination and Evaluation. Getting vague replies from the staff over Panchal's case and the cases of other students, the activists decided to stage a sit-in protest. Around 20 activists staged the protest and refused to let Karande leave office.
Another Yuva Sena leader and former Senate member, Rajan Kolambekar said, "The director of board of examination had a Management Council meeting to attend, but students have been suffering. Not only do they delay in announcing results but also delay in resolving their issues. This is not acceptable. We ended our sit-in protest only after 2.30 pm, when he resolved all the issues we highlighted."
The activists claim that they found 12 other students who had queued up at the centre for various issues and all their issues were also resolved. "We met 12 other students who were waiting at the centre with their problems. An SYBCom student even told us that a staff member had demanded Rs 15,000 to clear his three ATKTs," Sawant said.
The student, Omkar Gopal, said, "I was told if pay Rs 15,000 all three of my ATKTs will be cleared and otherwise I won't be able to clear it even after revaluation. When I said I did not have that much money, the person said I would have to pay at least Rs 10,000."
Sawant added that a complaint in this regard has been forwarded to the vice-chancellor, along with a photo of the staff member who demanded a bribe from the student. "We are earnestly requesting decisive action. If the VC does not respond appropriately, we are prepared to take matters into our own hands to address and resolve this issue," he said.
15,000
Amount demanded by MU staff member to clear ATKTs