Women`s Reservation Bill: Women politicians discuss its impact and relevance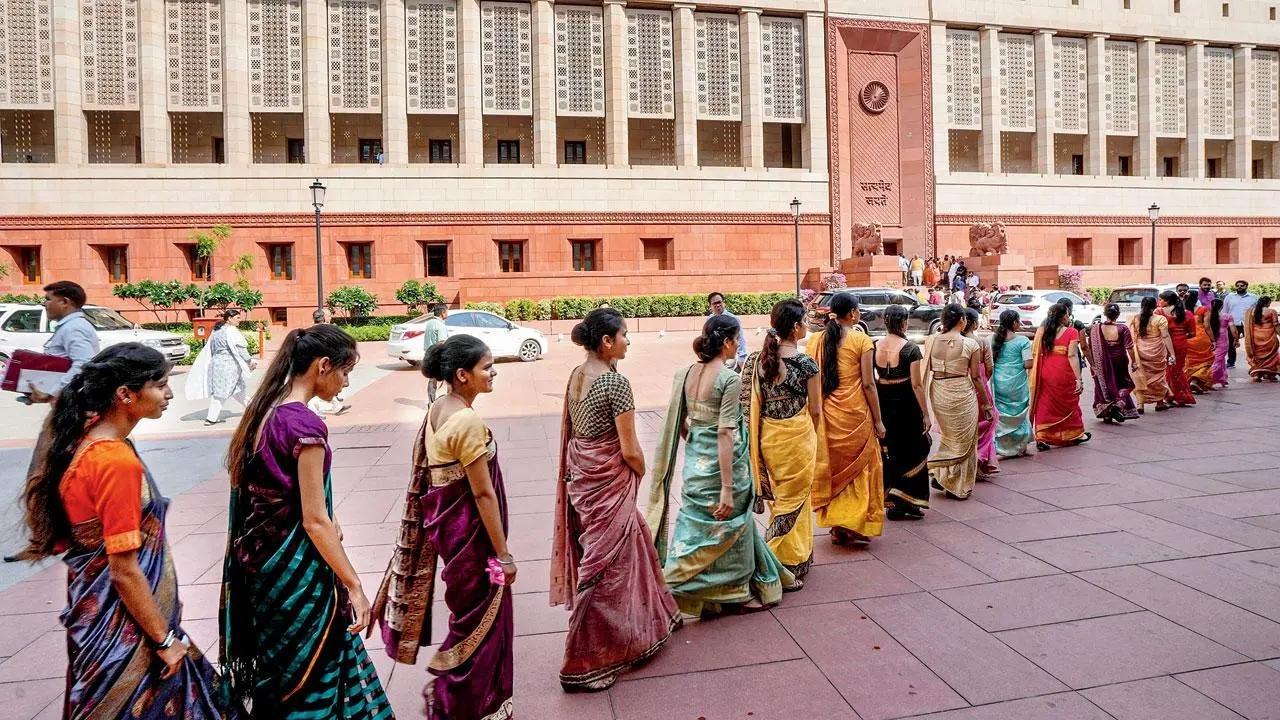 The Indian parliament has passed the Women`s Reservation Bill but the realisation of increased female representation in legislatures is still on the horizon, as its implementation is contingent upon the completion of India`s next census and a constituency boundary-redrawing exercise.
Called Nari Shakti Vandan Adhiniyam, the Bill guarantees a third of seats for women in the lower house of parliament and state assemblies. The bill received the nod of President Droupadi Murmu on September 29. With the President`s assent, the legislation has become law.
The passage of the bill has been described as "historic" by the government. Prime Minister Narendra Modi has said it will "boost women empowerment and enable greater participation of women in our political process".
Voices of Mumbai
Hema Chandani, 53, said the parliament has always been male-dominated and the bill gives encouragement to have more seats for women politicians. "I am never in favour of any kind of reservation. Providing or imposing reservation itself reflects existing inequality, and instituting such a reservation justifies placing the other gender in the minority. However, given the historical male domination in the country and the fact that the parliament is predominantly composed of men, this bill may provide encouragement to allocate more seats to women politicians," she said.
"Considering that women are more empathetic than men, there should, hopefully, be a change in terms of women's education, child development, women's safety, and equal opportunities. The only issue with women politicians or anyone for that matter, is they don't speak when their party is in power. These are just two popular names. If not male members in the parliament, it was expected that women members would speak up on the recent Manipur incident. However, they chose to stay mum for the brownie points from the party. So the question is, when you give the reservation to women in parliament, do women take that opportunity to make a difference or choose silence for their personal agendas?" she added.
Sonali Pimputkar, a working professional from Badlapur, said that as a lifelong Mumbaikar, she thinks the Women`s Reservation Bill is a positive step towards promoting gender equality in politics.
"It's a significant move to ensure women`s participation in decision-making processes. While it won`t be a quick fix, it does have the potential to bring about a more balanced representation in our legislative bodies. The bill should encourage women to participate actively in politics, which, in turn, can influence the development and implementation of policies that benefit everyone," she mentioned.
When asked if the bill will help women`s participation in the parliament, the 29-year-old working professional said, "The Women`s Reservation Bill has the potential to be a game-changer, but its effectiveness ultimately depends on how well it`s implemented. Mumbai, like many other parts of India, has seen a rise in women`s participation in various fields. This bill can be instrumental in promoting similar trends in politics. It can lead to more diverse perspectives, innovative policy solutions, and a broader representation of the population`s interests. While it may not immediately address all gender disparities, it`s a necessary step towards achieving a more balanced political landscape."
Speaking about whether reservations for women should be given in every state and state assembly, Pimputkar shared, "Reservations for women in state assemblies across the country can be beneficial, as it would provide women with opportunities to participate in governance at various levels, reflecting the diversity and inclusivity that India stands for."
She further said that extending reservations for women to every state and state assembly is a notion rooted in inclusivity and diversity, which are core values of India. "While there will be challenges in its implementation, especially in culturally diverse states, it's a step toward achieving a more inclusive democracy. It's important that women from all backgrounds and regions have a voice in shaping the policies that affect their lives, and state-level reservations can help facilitate this," she explained.
Women politicians speak out
Varsha Gaikwad, an MLA from Dharavi and Mumbai Congress President, said that the bill is a gimmick from the central BJP government, which wants to lure women voters.
"The bill originally was brought by the UPA-led government in 2010. If the BJP actually cared for women that much, they should have supported and endorsed it in the Lok Sabha then. The benefits that the government claims women will get will not have any immediate effect. The bill's implementation is contingent upon a lengthy process of delimitation which can take up to, or even more than, five years. The bill`s article 334A says that the provisions of the women`s reservation shall come into effect after the exercise of delimitation and after the figures of the Constitution Act, 2023 have been published. This means the bill may not be effective even in the 2029 general elections. Plus, there is no progress on the census which was due in 2021. Through the census, a way forward can be ascertained but the government is busy giving jhumlas," she said.
Speaking about whether reservations for women should be given in every state and state assembly, Gaikwad said that women should certainly be represented from every state and hence from every state assembly.
"Women`s representation in politics is something that Congress has stood by strongly. If you look at women`s representation in Congress, it`s more than any other party. They were always given responsibilities which they have ably handled. It was former Prime Minister Rajiv Gandhi`s vision and we are happy that Congress has many in its ranks," she added.
Echoing similar sentiments, Aam Aadmi Party (AAP) Mumbai's president Preeti Sharma Menon said she welcomes the move, but the ruling BJP has fooled the public.
"I welcome the Women`s Reservation Bill. But sadly, I must say in the same breath that the BJP has only fooled the public. They have tried to appease women voters by saying that they`re bringing in the Women Reservation Bill, but there are so many ifs and buts as the processes that need to be completed before the bill actually becomes a reality are humongous and at the discretion of the central government. It`s possible that they may never complete these processes and the bill will never become a reality. If any party is seriously committed to bringing about a Women`s Reservation Bill, they should bring it, they should enact it, and they should ensure that it`s active today, not sometime in the foreseeable future," she confessed.
Preeti Sharma Menon further opined that women in India have been subject to patriarchy.
"Why is it important to have a Women`s Reservation Bill in any society? Their natural development gets stymied. And therefore we need to help these groups of people, to bring them to a level playing field with the privileged groups. Women in India have been subject to patriarchy. They have been subject to bigotry. They have been subject to abuse for centuries. Their space in public life is very, very limited. It`s very difficult for women to voluntarily step into public life. So the reservation will do a great favour to the entire process of getting women to be a part of public life and governance," the AAP Mumbai`s President said.
Meanwhile, Shiv Sena Secretary and Spokesperson Manisha Kayande wants the Women's Reservation Bill to be implemented without delay.
She urged the government to implement the bill before the upcoming Lok Sabha elections.
"Already women have waited for it for 27 years and if the bill has passed with everyone`s consensus then why not implement it as soon as possible or in coming Lok Sabha elections," Kayande said.
"The bill will help because women are underrepresented in the Lok Sabha and in the Vidhan Sabha. Women need to have an equal representation, if not equal at least a strong voice. This will build confidence among the women that their voice and opinion will be represented in the Parliament," she added.
When asked about the delay in the implementation of the bill, Kayande said, "We were expecting that it should have been implemented as soon as possible. But due to census and an exercise to redraw the boundaries of constituencies, it has been delayed."
She further said that the bill should be implemented before the upcoming Lok Sabha elections, if not then by at least the next Vidhan Sabha elections. "The government should not delay and implement it as soon as possible," Kayande insisted.