Unsung Heroes: Meet police officers going above and beyond their call of duty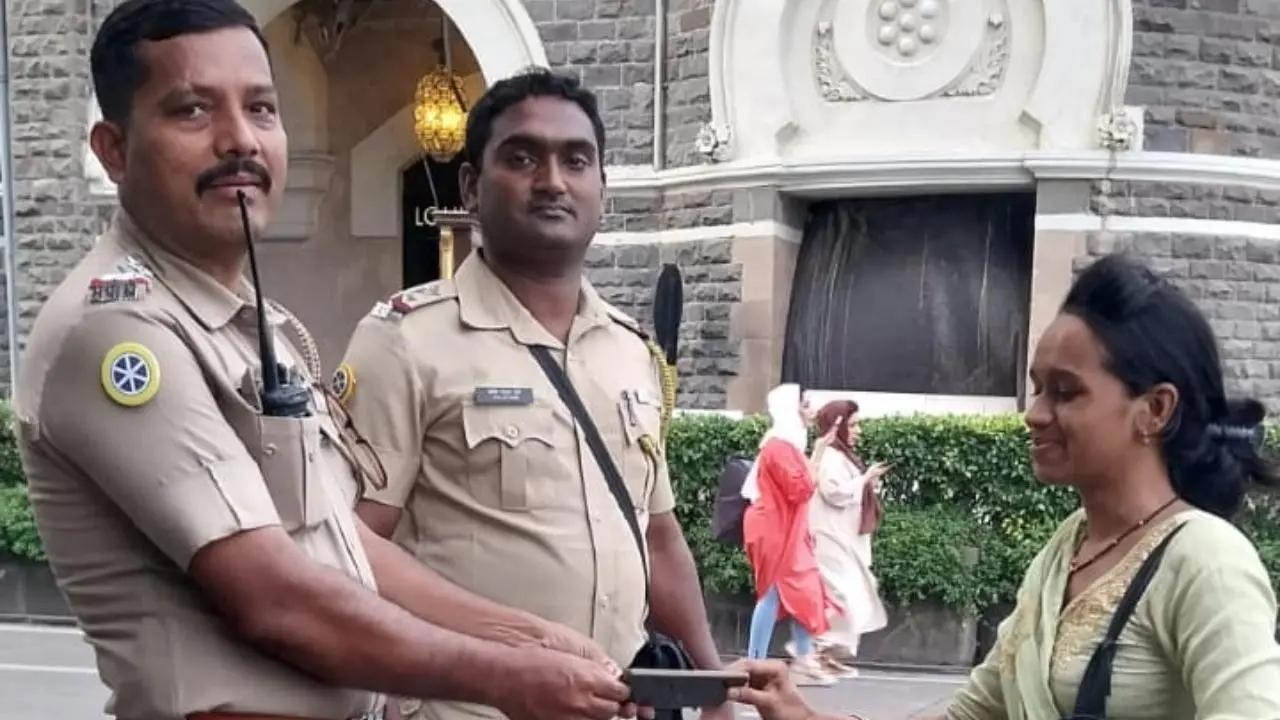 In the bustling streets of Mumbai, where life moves at a relentless pace, there are some Mumbai Police officers who go above and beyond their call of duty. While their primary responsibility is to maintain law and order or control traffic on busy city streets, these remarkable Mumbai Police officers showcase a different kind of heroism. From fearlessly capturing dangerous snakes with their bare hands to helping citizens locate their lost mobile phones amid the city`s traffic chaos, these officers demonstrate a commitment that transcends the boundaries of traditional policing.
The helping cop
Last month, a video of a Mumbai cop showing a heartwarming act of kindness went viral on social media platforms gaining widespread praise for going beyond his duty to help a man, accompanied by his five-month-old baby who had found themselves stranded at Charni Road railway station, facing difficulties in reaching their intended destination.
This predicament arose as several taxi drivers declined their request for transportation due to the ongoing Ganesh Visarjan festivities. However, in a touching display of compassion, the cop stepped in to assist the father and his toddler.
Taking to Twitter, Aman Vora shared a video of this touching moment and expressed his gratitude, saying, "We were at Charni Rd Station, and it was raining. No taxi driver was ready to come because of Ganesh Visarjan, and my 5-month-old son was crying, but @MumbaiPolice helped us reach our destination. My sincere gratitude. Jay Maharashtra. Jay Hind [sic]."
This was not just one act by a cop, some of the Mumbai cops do a bit more while performing their daily duty.
The snake cop
Muralidhar Shravan Jadhav, a police constable serving the force since 2007, has earned widespread acclaim for his unwavering commitment to being a "snake friend" since his childhood. For the past 15 years, he has seamlessly blended his roles in the police department with his passion for wildlife conservation.
Jadhav`s extraordinary journey has taken him from the opulent bungalows of former Chief Minister Uddhav Thackeray and the residence of actress Shilpa Shirodkar to the humble abodes in the sprawling slums of Dharavi and even the remotest tribal communities nestled at the foothills of Malangada. His mission is to safeguard snakes and raise awareness about these often misunderstood creatures.
While speaking to mid-day.com Jadhav said, "I have been doing this for many years now and will continue to do it. I have been rescuing snakes in the city and remote areas too. There have been times of emergency rescue operations where I have rescued snakes barehanded too."
He said, "There have been instances when I have rescued venomous snakes too."
Muralidhar Shravan Jadhav
Jadhav`s remarkable dedication has not gone unnoticed. In recognition of his selfless service, Jadhav was appointed as a permanent "Snake Friend", in 2023, following orders from the Commissioner of Police and the Home Ministry.
Over the years, he has received numerous awards, including the prestigious Khandesh Ratna in 2019 and the Mumbai Hero in 2016.
Jadhav`s mission transcends boundaries, as he tirelessly ventures into homes, rescuing both venomous and non-venomous snakes that have ventured into residential areas. He works in collaboration with the forest department to ensure the safe capture and release of these reptiles back into their natural habitats, far from human settlements. His efforts extend to educating small villages and communities about snake safety and providing guidance on snakebite emergencies.
His work gained international recognition, with documentaries about his life broadcasted in 50 languages in countries such as Belgium, Germany, and recently, the Netherlands.
The Traffic Cop who traces missing mobile phone owners
Assistant Police Inspector (API) Sudhir Rathod who is at present attached to the Mumbai Traffic Police and posted in south Mumbai has been helping people get back their lost mobile phones. In the past few months, API Rathod has traced several owners of the expensive lost mobile phones in no time and returned their phones back to them on the streets where they had lost them.
In mid-September, API Rathod, while regulating the traffic near the Gateway of India in south Mumbai went an extra mile to trace the owner of an expensive mobile phone after finding a lost cell phone that had been misplaced by its owner near a heavily crowded footpath in Colaba.
On September 15, at around 6 pm, API Rathod while regulating the traffic near hotel Taj in Colaba spotted a mobile phone, and decided to check the phone and trace its owner. In the meantime, two other officers- PSI Pramod Mundhre and PI Deshmukh too decided to trace the phone`s owner. The officials then traced the owner, a woman who had accidentally dropped the mobile phone valuing around Rs 42,000. They contacted the woman, who was around the area and called her near the same spot where the phone was found. After verifying the ownership of the phone, they handed it over to the woman, who was later extremely thankful to the cops for helping her.
"In the past months there were as many as four-five instances where phones were handed over by passersby or found to be lost while on the streets, controlling traffic. I and my fellow colleagues managed to trace its owners and handed them over to them," API Rathod told mid-day.com.
He added, "The owners of the lost phones are always very thankful after being handed over their phones to them."
How API Rathod`s `helping people first` journey began
For API Rathod doing a bit extra for the public began in 2016 when he was a Police Sub Inspector (PSI) and posted at the Sakinaka Police Station in Mumbai. He came across a kidnapping case of a 14-year-old girl and witnessed the inconsolable family of the girl who kept requesting the police officers to trace her, suspecting something unfortunate may have happened to her.
API Rathod immediately formed a team and began tracing the girl. He found that a 22-year-old man, the prime suspect in the case, was seen with her. Further investigations by API Rathod and his team led to the location of the suspect in Azamgarh, Uttar Pradesh. API Rathod`s team not only successfully rescued the girl but was also successful in arresting the suspect. The family of the victim was extremely thankful to API Rathod and the Mumbai Police for his outstanding operation in another state of the country.
"I had a friend in Azamgarh, I asked for the details of the suspect and I was told that the family of the suspect was dangerous and asked to be extremely cautious while conducting the rescue of the minor girl. I reached the spot and traced the suspect first, the girl`s location was later followed and she was successfully rescued. The suspect was later placed under arrest and the girl was handed over to her family unharmed,"he recalled.
He added, "As a Mumbai Police officer, it was my duty to detect the case and ensure about the safe return of the girl to her family. It was a challenge to arrest the culprit in which I was successful."