Thane: CM Eknath Shinde's home city has some of the filthiest toilets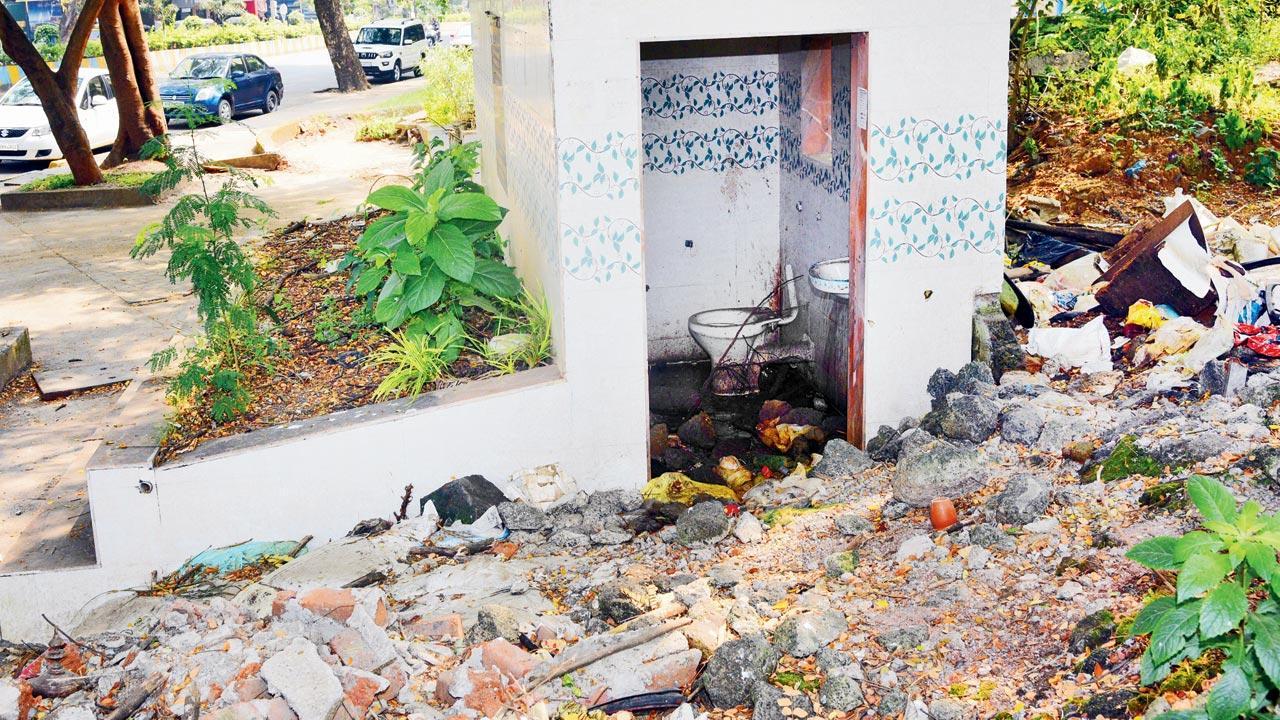 With Maharashtra Chief Minister Eknath Shinde ordering civic staff to maintain the cleanliness of public toilets that fall under BMC's jurisdiction, mid-day conducted a ground study and an audit of public toilets in the CM's own residential city, Thane.
Not only were the toilets found in a shabby condition, but they were also not being cleaned even once in a day.
The first toilet we visited was in a tribal hamlet on the Yeoor Hills with a population of 1,200 to 1,300 residents.
Raja Gunaseelina, a local, says he has never seen this toilet in a clean state
Kokanipada
The public toilet at Kokanipada is basically a porta cabin placed near the base of this hill some years ago. However, this toilet has had no facilities since the time it was installed a few years ago and not even water is available. The stench from the toilet is so strong that one cannot even stand near it. Local Hrishikesh Choudhary said public toilets in the entire area are in a bad condition. "The doors are broken and the toilets are unsanitary. As a result, they are used only when there is no other option. There are only 48 toilets in the area, which is insufficient, and many of these are out of order. Women especially face a lot of problems," he said.
Another Kokanipada resident, Dinesh Warankar, said local residents face many problems because of the shabby public toilets. "It's really difficult to use these toilets. The authorities just construct a toilet, but after that no one turns and looks back."
The porta cabin at Kokanipada. Pics/Satej Shinde
Kunte Road junction
The public toilet at Late Prabhakar Kunte Road junction, next to the Bethany Hospital reservoir, was constructed in 2020 but has an age-old look. There is no proper entrance and it appears as though the Thane Municipal Corporation (TMC) has not cleaned it since it was constructed. A local, Raja Gunaseelina, said, "We have never seen this toilet in a clean state. The TMC just spent money on the construction but there was no maintenance. Now no one can even enter the toilet," he said. Other locals also claimed that the toilet hasn't been cleaned even once since it was built.
Swapnil Mahindrakar, civic activist and MNS party worker
Aai Mata Chowk
The toilet near Savarkar Nagar Aai Mata Chowk has no amenities, no water supply and the facility is also unclean. "This area has heavy footfall. But the TMC doesn't care about the basic needs of people. We never saw the authorities sanitise this public toilet. Now it is so filthy it even cleaning it has become pointless," said local resident Pankaj Patole. He added that it is not used because of the stench.
Locals at Aai Mata chowk say they have never seen the toilet being cleaned
Wagle Estate
Wagle estate is an Industrial zone with a heavy footfall of daily wage workers who come here for work. However, there is no proper public toilet facility. There is one public toilet next to the ESIC hospital. Vaibhav Thackeray, who visits Wagle Estate, said, the condition of this public toilet is among the worst. "The toilet is leaking and sewage flows onto the road. Also, the urinal is choked and is never cleaned. Some doors of the toilets are broken. Women can't even think of entering," he said.
Swapnil Mahindrakar, MNS party worker and civic activist, said despite Thane being a part of the Smart City project, people are not even getting basic facilities. "Crores of rupees are spent to build toilets, but they are not maintained. It is suspected that these toilets are built only for the benefit of construction contractors," he said.
Recently, CM Shinde slammed BMC chief Iqbal Singh Chahal over the condition of public toilets in the city. Chahal then ordered that public toilets be cleaned five times a day.
Thane Deputy Municipal Commissioner Tushar Pawar, and former Thane mayor and spokesperson of Shiv Sena Naresh Mhaske, did not respond to messages.
5
No. of times public toilets in Mumbai have to be cleaned