Tamannaah Bhatia Looks Sexy And Dreamy In Manish Malhotra's Shimmery Dual-Tone Saree At Diwali Bash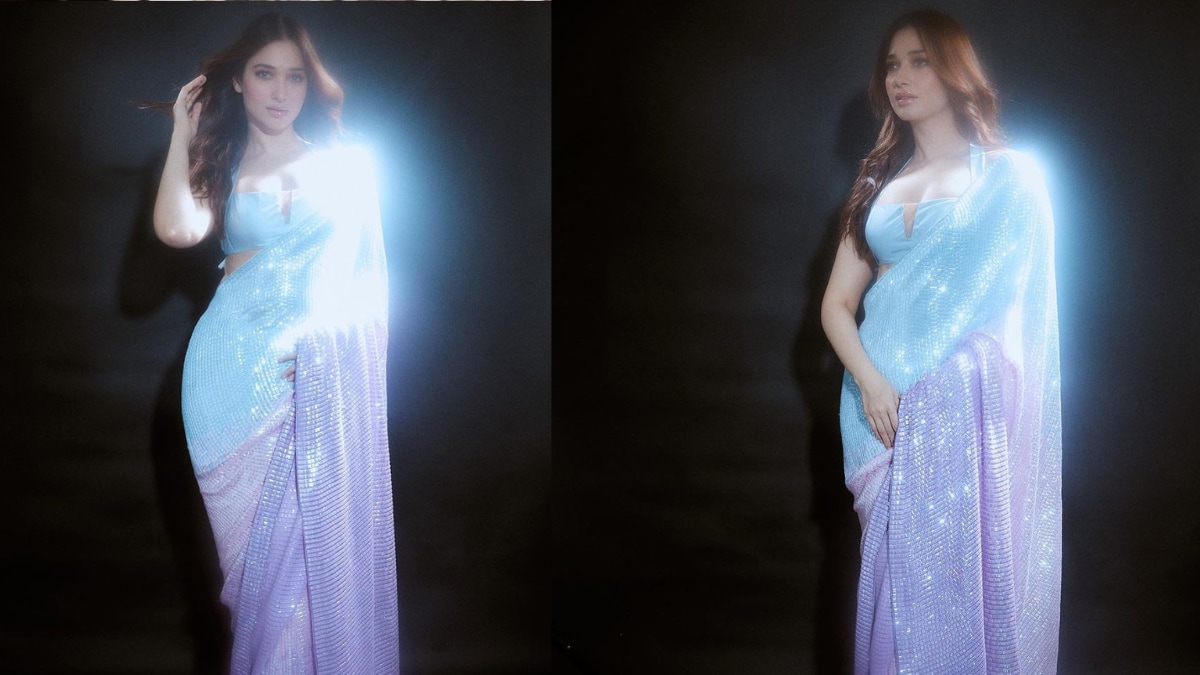 Tamannaah Bhatia looks straight out of a dreamscape. (Images: Instagram)
What do you think of this magnificent look, goals or not?
Tamannaah Bhatia undoubtedly exudes sizzling charm when draped in a saree. Her passion for traditional outfits is evident to all, and she seizes every chance to showcase her alluring curves in this elegant attire. Most recently, at a star-studded Diwali celebration hosted at Manish Malhotra's residence, Tamannaah's appearance once again established her as an unrivalled queen of the saree game. Her appearance serves as the perfect source of inspiration for those seeking a Diwali or upcoming wedding look.
For the Diwali party, Tamannaah chose to wear a Manish Malhotra's shimmery dual-tone saree in shades of blue and purple, perfectly paired with a blue halter neck blouse. For her makeup, she chose a minimalist approach, featuring sultry smokey eyes, a subtle touch of pink blush, and glossy lips that beautifully accentuated her ethnic appearance. Renowned hair stylist Florian Hurel enhanced her hair's beauty by leaving her tresses flowing freely. In a testament to understated elegance, she opted for a jewellery-free look, letting her saree speak for itself. Stylist Chandini Whabi deserves credit for her flawlessly curated appearance.
The actress shared a set of a few photos in the stunning saree on her Instagram handle and wished her fans a Happy Diwali. She wrote, "When mithai & patakha had a baby. Happy Diwali everyone."
Fans flooded the comment section with an outpouring of love and adoration for her stunning appearance. One user wrote, "Gorgeous Beauty," while another user said, "You really look like an angel from the sky, very beautiful."
Her Instagram account unmistakably showcases her profound affection for sarees. The stunning actress recently graced her followers with a breathtaking appearance in a white saree adorned with black buttons, intricate crystal and sequin work, and a striking abstract drip design.
The saree was impeccably draped, featuring crisp pleats and an elegantly spread-out pallu. To complement this, she paired the saree with a black bralette embellished with beads and a modern choker-style extension. This captivating ensemble hailed from Vrinda Sachdev and Gurinder Singh's Qbik collection. Her makeup was flawlessly executed, highlighting her perfectly contoured cheeks, warm brown eyeshadow, eyeliner, kohl-rimmed eyes, and nude lipstick. With her hair flowing freely, she radiated sheer elegance and beauty.
Tamannaah Bhatia remains a constant source of inspiration for saree lovers and fashion enthusiasts alike. Her saree-clad appearance reminds us that there's nothing quite like the allure of this exquisite garment, and it will forever remain a symbol of grace, beauty, and tradition.