Study highlights struggles of Adivasis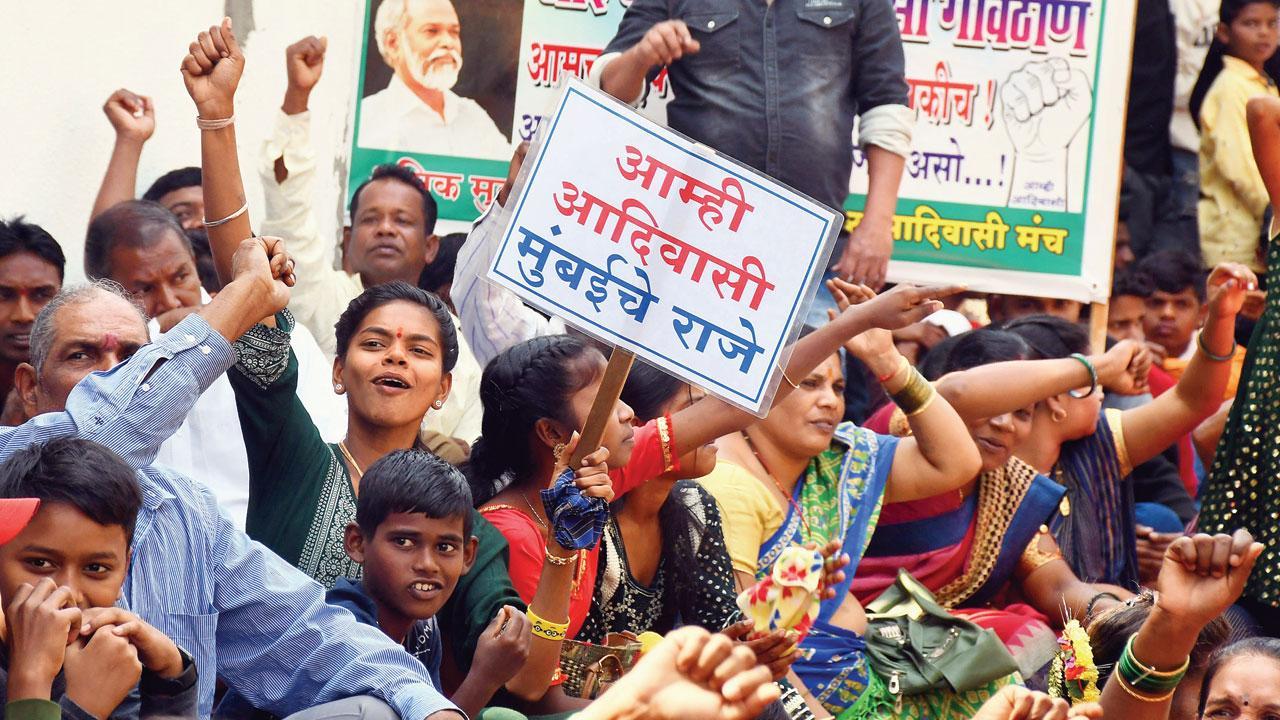 A comprehensive two-year study by the Kamla Raheja Vidyanidhi Institute of Architecture and Environment, in collaboration with Kali Billi Production and Pani Hakka Samiti, has shed light on the dire living conditions endured by Adivasi padas and non-Adivasi settlements within the expansive bounds of Sanjay Gandhi National Park (SGNP) and Aarey forest. This in-depth study has brought to light a multitude of pressing issues that these communities face, underscoring the immediate need for intervention. These challenges are not merely inconveniences but blatant violations of their basic rights.
Water woes
The most pressing issue identified in the research is the severe shortage of clean water. Residents are compelled to rely on natural streams, bore wells, hand pumps and wells for their water needs. These sources, being contaminated or overused, often pose health risks. The erratic and insufficient supply of water, coupled with the fact that some areas have no access to daily water supply, compounds the difficulties. Even more alarming, drinking water sources are often located at significant distances from the padas and settlements, exacerbating the struggle for access to clean water.
Sanitation struggles
The state of sanitation facilities and the absence of garbage collection services further worsen living conditions. In many padas, toilets are either in deplorable conditions or entirely absent, a stark violation of their right to dignity and hygiene. The absence of waste collection services adds to the growing waste problem, posing a direct threat to the hygiene and overall well-being of these communities.
Infra and connectivity
The communities' lack of access to essential infrastructure is another significant challenge. Roads within these areas are often in dire need of repair, obstructing transportation and, more critically, hindering the prompt arrival of emergency services. The absence of legal electricity connections and meters in many padas forces residents to rely on unsafe alternatives, with far-reaching consequences. Additionally, non-functional streetlights have contributed to a rise in security concerns, leading to a surge in thefts and other crimes.
Education, awareness
Schools are often located far from the padas, making regular attendance a formidable task. The lack of government-run anganwadis further complicates the issue, robbing the children of the educational opportunities they deserve. Education is a fundamental right and an essential pathway to breaking the cycle of poverty. The absence of awareness regarding forest rights and legal protections leaves these communities vulnerable to exploitation, particularly when local officials are unaware or uncooperative when approached for support.
Land rights, rehabilitation
The research also unveiled the misclassification of Adivasi padas as slums, rather than recognising their unique status and rights. This has led to numerous issues related to land ownership and housing. Over 11,000 families residing in SGNP are legitimate slum residents eagerly awaiting Slum Rehabilitation Authority (SRA) rehabilitation. However, the reluctance of the Aarey administration to issue NOCs for basic facility repairs exacerbates their predicament. Opportunistic individuals have taken advantage of the situation just before SRA surveys, further complicating the issue of land rights.
Community speak
Prakash Bohir of Adivasi Hakka Sanvardhan Samiti expressed his concerns, saying, "Whenever we approach the Brihanmumbai Municipal Corporation (BMC) for anything, it is often found that many officials are not aware of laws or choose to feign ignorance. Adivasis are not entitled to slum rehabilitation. Consequently, many padas are erroneously declared as slums to bring them under the SRA rather than the Adivasi Punarvasan Yojna. Illegal immigrants often show up the night before SRA officials are to conduct surveys, demanding housing, claiming they have lived here for a significant time.
It seems there is a gang working to secure SRA houses through illegal means. They typically construct makeshift houses overnight, just before the survey is scheduled to take place. When we filed an RTI, it came to our attention that certain names were repeated in multiple padas, all claiming eligibility for an SRA house. We also wrote a letter to the governor regarding this issue, but regrettably, no action has been taken."
Bharat Choudhari, a resident of an Adivasi pada, lamented, "We usually see anganwadis in very bad conditions, or in some padas, there are no government-run anganwadi. Adivasis are humans too and should be treated as such. Denying us basic amenities is a direct violation of our rights"
Another resident from Ambedkar Nagar, Malad, said, "Water supply timings are highly unreasonable. We have to travel long distances just to get a handful of water. It's disheartening that we are often treated as human beings only during elections when political parties attempt to gather vote banks. Beyond that, our demands are rarely considered. We`re not asking for much, just basic amenities to lead a peaceful life."
The way forward
The research findings underscore the urgent need for government intervention to rectify the dire living conditions and rights violations endured by these marginalised communities residing within Mumbai's protected forests. This entails addressing water, sanitation, infrastructure, education and legal issues.
11,000
No of families in SGNP that are slum residents