Same-sex marriage: 'It's a massive disappointment'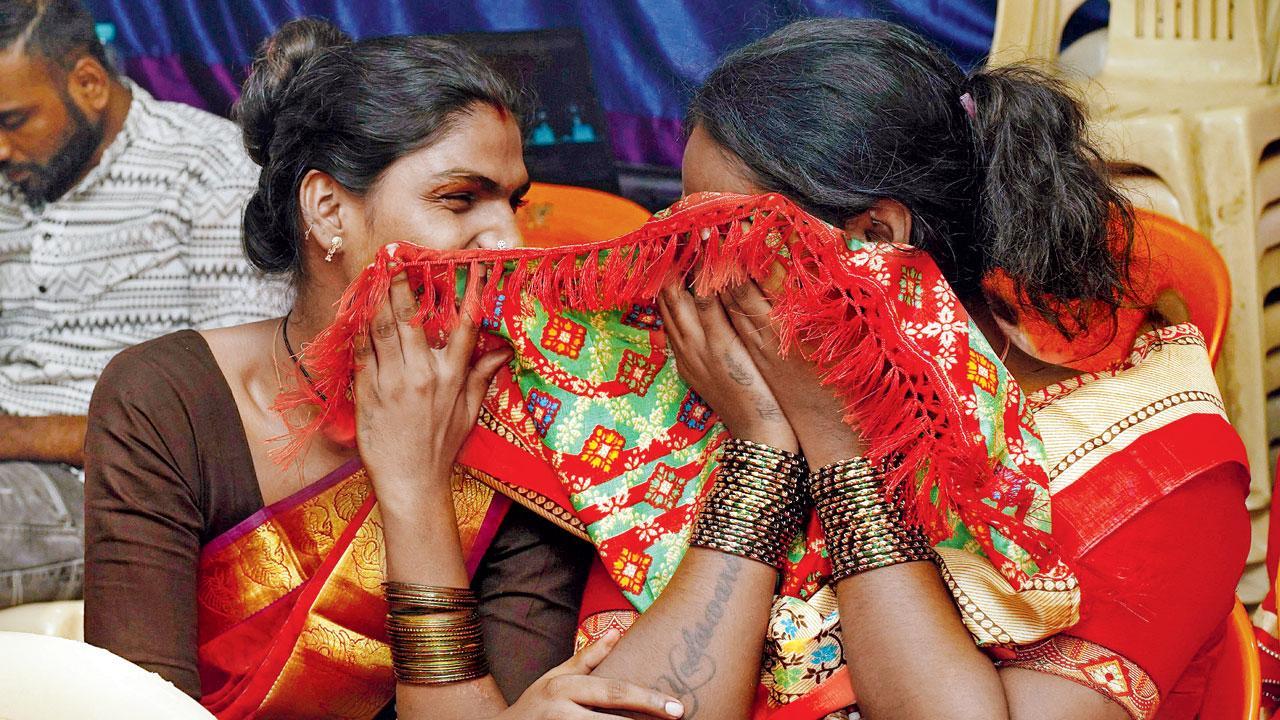 Curated by Aastha Atray Banan, Jane Borges, Arpika Bhosale and Reet Mulchandani
'If we go down, we go down in flames'
"We went in with the lowest expectations. But when the CJI started talking, we thought he was making sense. We were a little hopeful. Midway though, we realised that it's not happening. Same-sex marriage will not be legalised. It's a massive disappointment. Our purview of marriage is not what the traditional view is. It's not the horses, the mandap, the whole celebration. We don't want that. We want civil rights. It is shameful that this is the take.
Navin Noronha, comedian
The Supreme Court is who we look up to, to have the wherewithal to grant us our rights. Couples have existed since ages, it's been decades. But that doesn't change the fact that we can't have a joint bank account, I can't add my partner to any of my legal documents. They expect us to be proud of this country while treating us as second-class citizens. We were already far away, now we have only been furthered away (from our rights).
I don't see any hope, at least not for the next five years. The SC is plain chicken with the government and until we elect an empathic government, nothing will change. They (the government) has said multiple times that they are against same-sex marriage. It's ironic that they want to emulate the west–USA, Australia–in terms of trade, technology, global power when they had legalised gay marriage long ago. But, I love my country. If I wanted to move, I would've done it a long time ago. From travelling, performing in different parts, I've seen that it is a very queer country. I'm here to stay. If I die, I die here. Now, we hunker down, we come together and fight harder. If we go down, we go down in flames.
'My hope was that at least civil unions would be legalised'
Vishaal Asrani, actor-director-writer and co-director, Vishaal Asrani's Institute of Performing Arts, says: Though I have been watching the live proceedings in court since Day 1, I knew that with the kind of laws our country has, and how the judiciary cannot interfere in the legislation, the judges' hands were tied. Even if they were sympathetic to our cause, there is only so much that they could do. So yes, I wasn't really shocked by the verdict. But, I am definitely disappointed, because somewhere there's this glimmer of hope that keeps us going.
Vishaal Asrani (right) with Jiji Subi, Asrani's Institute of Performing Arts
My hope was that at least civil unions would be legalised. It would have been easy to grant, without creating any disharmony in the nation. This was the least that they could have done for the LGBTQiA+ community. Nobody was expecting them to go the whole hog. But we've now been told that the state has no obligation to validate the same. That is heart-breaking. It's been 15 years, and my marriage [in San Francisco] is yet to be validated. It was sad enough that Jiji [Subi] and I had to fly abroad, to have a stranger be our witness and celebrate our wedding. I remember when we returned to our own country, we had to stand in two separate lines for immigration. In some way, it is denying the minority their rights, because the majority doesn't agree with it.
There are a few positives, of course. Now, the court has given a directive that the police must offer protection to LGBTQiA+ people when required. Years ago, we had to go and ask for protection from the police for Jiji and me, because he was threatened by his relatives. Even my parents came with us. At that time, the police had refused to do so. This is a great step forward for our community. But otherwise, this new judgment hasn't changed anything for us. You gave us the hope that we'd be at par with other citizens, but you have given us nothing. The only good thing is that there was a conversation. Otherwise, our hope today has been pulled out like a carpet from under us, without us even knowing.
'There is no use fighting now'
Shakti Waghela, a transwoman who works in mental health sector
"I am disappointed but not surprised, I had taken work-from-home because I knew today the verdict will be there today and didn't want the pressure of people staring at me the whole time. This is heartbreaking and we don't know what to do next, I think everyone is just trying to pick themselves up and think of what to do next. I was truly disappointed and I tuned in to see the verdict with my friends, we were all online and you could hear everyone quiet down as the realisation of what just happened kicked in. A lot of my friends felt that this is it, and there is no point in fighting for this anymore. The only positive takeaway was the fact that the language used by the CJI was very sensitive, he acknowledged that we have rights, but at the end of the day it also felt like them saying 'We see you and hear you but there is nothing we can do for you'."
'Your rights are in others' hands'
"It must be very disheartening for those who expected the courts to work in their favour to hear the judgment. Acknowledging queer lives and saying they should have similar legal entitlements that cis-heterosexual citizens enjoy in various spheres of life is not the same as telling exactly how that should be implemented. Lip service when it comes to matters of human rights from institutions that are responsible for granting and protecting them is not an adequate response. This is a universal issue when arguing for Queer rights.
Aroh Akunth, Dalit Queer Project
How institutions let you in is not about your well-being but their status quo: your rights in the hands of others, your lives in the words of others. How cis heterosexuals engage with you: do they want to be progressive/regressive, welcoming/how welcoming?
They are even allowed to say you're not welcome. The very framing of the judgment is a testimony to this continuing criminalisation of Queer lives in India and elsewhere. I feel any future strategizing concerning Queer rights in India must learn from the failures in ensuring the rights of Queer folks outside the framework of marriage and the limitations that the legalization of Queer marriages brings with it in countries where it is allowed. We love to talk about how diverse our region is, but seldom do we talk about how unequal and unjust- a conversation about rights is incomplete and ineffective without the latter."
'We are here to stay'
Glorious Luna, co-founder, Current Management that represents queer talent
It's definitely what I didn't want to hear, but did I expect this? Yes. We filed this petition because we want to be able to have legal partners/spouses and be allowed to make financial and medical decisions. This is our fundamental right and we were denied. I think it's going to take decades for our country and we will continue to fight. We are here to stay.
'We are not back to square one, we are worse now'
Kabeer, a queer influencer, says: I am not feeling very good [about today's verdict]. I am disappointed because of the way this judgment was presented—it said all the right things, but it didn't do anything in the end. While the intent is great, when something wrong seems to be happening, intent doesn't matter, impact does. When they [the judges] say that they all unanimously agree that the right to marriage is not a fundamental right for the LGBTQiA+ community, what they fail to understand is that by doing this, they are bolstering the existing narrative, and only adding to the problems of society.
Queer influencer couple and former RJs Yogi and Kabeer
This is very disorienting for the entire community—I don't see it as a setback for the LGBTQiA+ community alone. Yes, I have always wanted to marry and in my country, but this is not even a question of whether I want to do it. It's about "will I get to do it". Marriage validates a lot of things in our country; it gives us privileges. Personally, I would have been okay with them saying "marriage is a touchy subject, so why don't we give you civil partnership?". But even that didn't come through. We are not back to square one, we are worse now.