PM Modi on being invited for Ram temple consecration in Ayodhya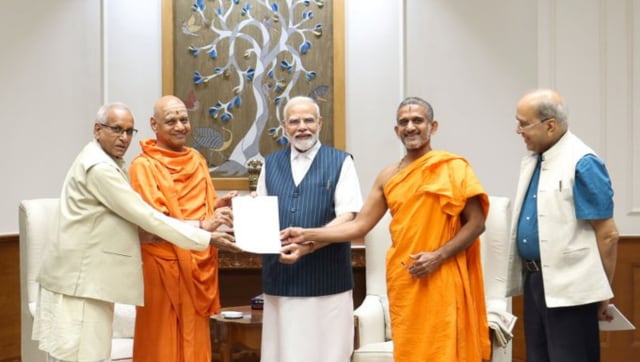 Prime Minister Narenra Modi Wednesday received formal invitation by Shri Ram Janmbhoomi Trust for the much-awaited inauguration of Ram Temple in Uttar Pradesh's Ayodhya on January 22, 2024.
Sri Ram Janmbhoomi Trust's General Secretary Champat Rai met PM Modi and confirmed January 22, 2024, as the date of installation of Lord Ram idol in the Garbhagriha of the Ram Mandir in Ayodhya.
'I feel very blessed'
In a post on X, formerly known as Twitter, PM Modi said: "Jai Siya Ram. Today is a day full of emotions. Today, the officials of Shri Ram Janmbhoomi Teerth Kshetra Trust had come to meet me at my residence. They have invited me to visit Ayodhya on the occasion of the consecration of Shri Ram Temple."
"I feel very blessed. It is my good fortune that in my lifetime. I will witness this historic occasion," PM Modi said.
जय सियाराम!

आज का दिन बहुत भावनाओं से भरा हुआ है। अभी श्रीराम जन्मभूमि तीर्थ क्षेत्र ट्रस्ट के पदाधिकारी मुझसे मेरे निवास स्थान पर मिलने आए थे। उन्होंने मुझे श्रीराम मंदिर में प्राण-प्रतिष्ठा के अवसर पर अयोध्या आने के लिए निमंत्रित किया है।

मैं खुद को बहुत धन्य महसूस कर रहा… pic.twitter.com/rc801AraIn

— Narendra Modi (@narendramodi) October 25, 2023
The head of the temple construction committee, Nripendra Mishra, had earlier said ground floor of the three-storey Ram temple in Ayodhya would be completed by December-end, and the consecration ceremony is expected to take place on January 22.
Earlier this week, RSS chief Mohan Bhagwat also asked people to organise programmes at temples across the country to celebrate the occasion.
On November 9, 2019, a five-judge Supreme Court bench led by then Chief Justice of India Ranjan Gogoi ruled in favour of Ram Lalla. The court ruled that the entire disputed land spread over 2.77 acres where the demolished 16th century-era Babri Masjid once stood will remain with a Central government receiver and be handed over to the trust within three months of the ruling for the construction of the temple.
PM Modi had performed the Bhoomi puja for the construction of the Ram Temple on August 5, 2020.
In February 2020, the Prime Minister announced the constitution of Shri Ram Janmbhoomi Teerth Kshetra, to oversee the construction of the Ram temple in Ayodhya.