Nita Ambani Is Elegance Personified in a Stunning Kanjivaram Saree for the Opening of Jio World Plaza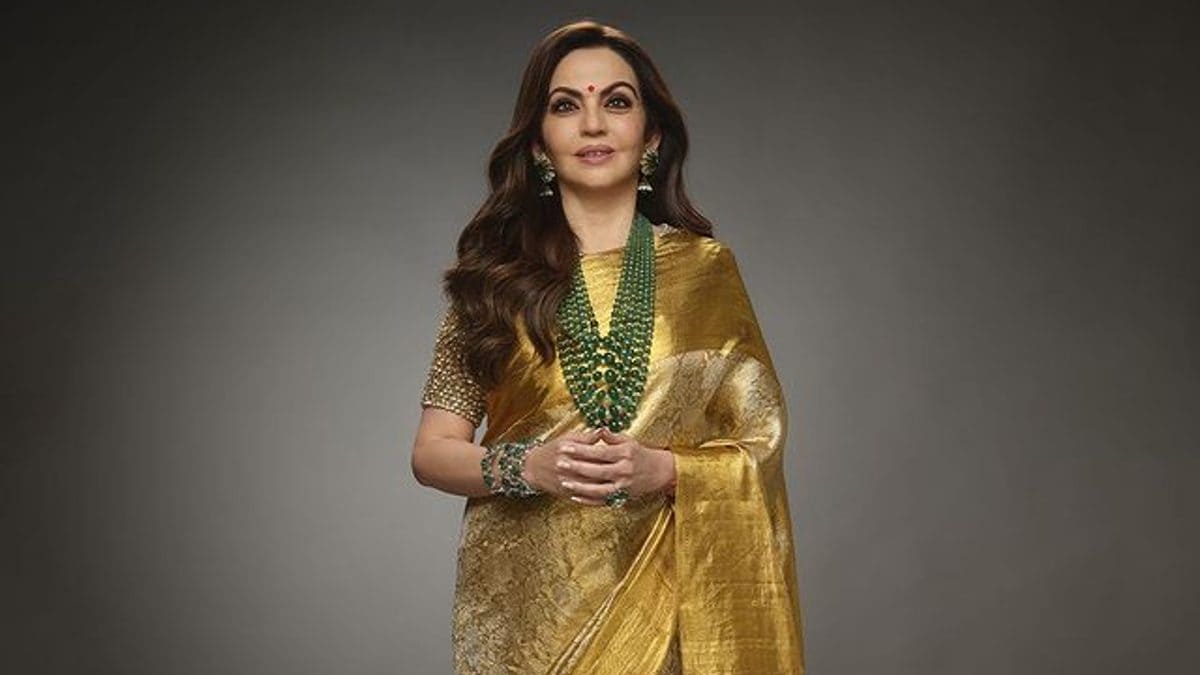 In addition to exuding classic elegance, Nita Ambani's attire sent a strong statement about the value of Indian craftsmanship and artistry.
Nita Ambani recently graced the opening of Jio World Plaza wearing a gorgeous Kanjivaram saree, making a fashion statement that represents elegance, tradition, and a commitment to preserve India's rich cultural history.
Nita Ambani, philanthropist and businesswoman, graced the grand opening of the Jio World Plaza with an ethereal presence in a magnificent display of reverence for Indian creativity and workmanship. The Instagram picture by NMACC, with the description, "Paying homage to Indian artists and artisans, Mrs. Nita Ambani adorned an exquisite Kanjivaram saree from SWADESH to celebrate the Jio World Plaza opening last night. With her passion to preserve and promote India's rich culture, she spotlighted the generations of legacy that our traditional kaarigars carry forward from one generation to the next."
Shri Somadas, a master artisan known for his expertise, created a masterpiece for Mrs. Ambani's ensemble for the major occasion. The saree she wore, referred to as the 'Kanchi Pattu,' was an example of traditional artistry and workmanship that dates back centuries. It was woven in the korvai style and included elaborate handwork in pure silk zari, serving as a fine illustration of the rich legacy that India's traditional weavers have perpetuated through the years.
The Indian textile traditions are crowned with the exquisite 'Kanchi Pattu' weave. With its elegant style, rich patterns, and ageless charm, it is a treasured depiction of the nation's rich textile history. The magnificent design of this saree, with its beautiful patterns and shimmering silk, brought to life India's rich cultural legacy.
Nita Ambani's wardrobe selection pays homage to India's traditional arts and crafts while also making a bold design statement. The SWADESH platform of the Reliance Foundation, which is devoted to promoting diverse regional art forms, has played a pivotal role in conserving and advancing the customs and artistry that typify India. SWADESH is a crucial link between the past and the present in a world where quick fashion frequently obscures the beauty of legacy.
Nita Ambani's elegant presence in the Kanjivaram saree, 'Kanchi Pattu,' is evidence of her commitment to preserving India's cultural heritage. She highlighted the amazing work of artists and weavers and their persistent efforts to preserve and promote the country's creative history by embellishing this wonderful creation. Her post is a kind reminder of the need of keeping up the traditions and craftsmen that weave India's rich cultural tapestry together.
Nita Ambani's dedication to protecting and promoting India's cultural legacy via her wardrobe selections is a welcome and motivating initiative in a world that is continuously changing. It serves as a gentle reminder that paying tribute to our heritage and celebrating the centuries of history that traditional kaarigars carry forth may be accomplished through fashion. Mrs. Ambani's clothing selection for the Jio World Plaza opening is a stunning cultural tribute as well as a fashion statement.