Mumbai: Is beautification ruining the city streets?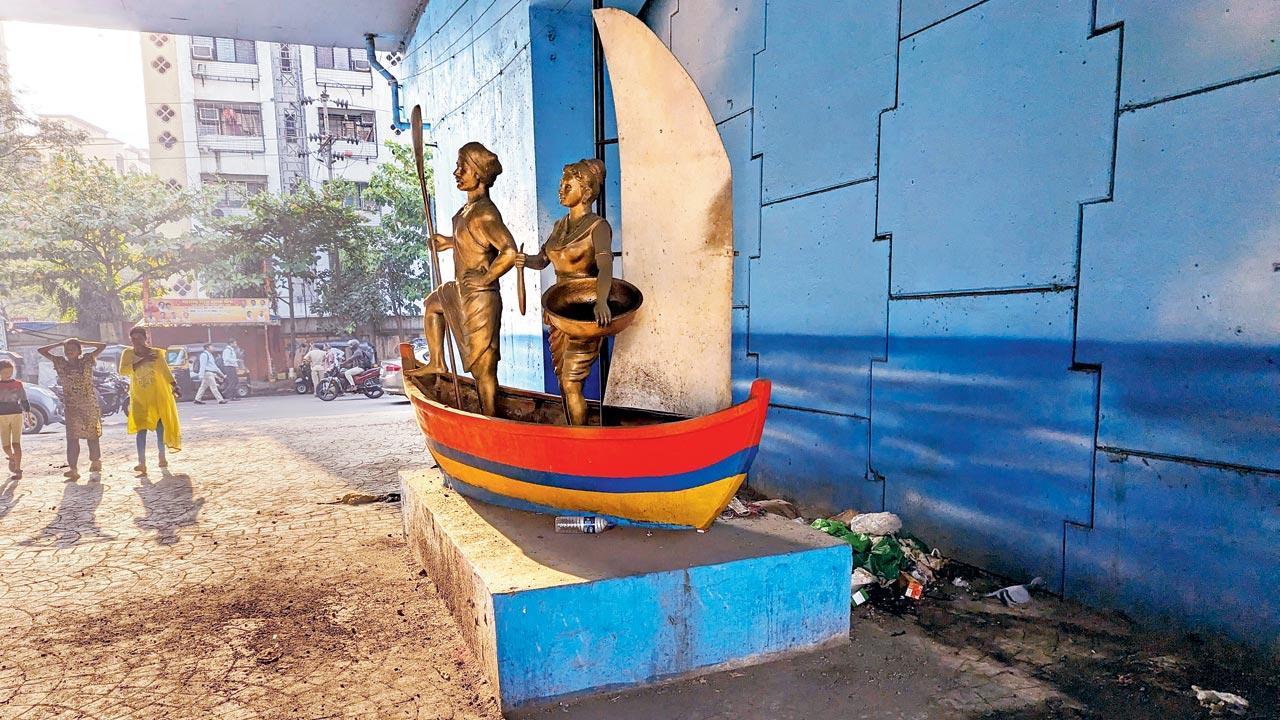 The purpose of projects inaugurated by the chief minister to beautify the city has been clearly defeated as some installations set up as part of the drive are already crumbling while others have been reduced to dumping spots. The beautification project, which the Brihanmumbai Municipal Corporation (BMC) has been tasked with executing, encompasses the illumination of trees and poles, the reconstruction of pavements and medians and the painting of flyovers, among other things.
Garbage dots a street below a beautified bridge at Lower Parel on November 11. PicS/Anurag Ahire
Citizens told mid-day a few spots can be improved aesthetically, especially the multicolour light poles on the Western Express Highway.
Most of the light poles installed by the civic body at Lokhandwala market in Andheri are dysfunctional
Pole problems
Meanwhile, trash is being dumped at the bottom of light poles installed three to four months ago by the K West ward on Lokhandwala market's footpaths. The poles were set up every 10 to 12 feet on a stretch of roughly one kilometre. Most, however, are broken and the few remaining ones are obscured by hawkers' stalls. "There was no need for these poles as there was sufficient light. Not a single one is in working condition. Some are broken at the base and a few electrical wires are visible," said Dhaval Shah, a resident. He added that if the BMC wanted to do something with the poles aesthetically, its officials should have applied their minds. "The footpaths are hardly three-four feet in width and there are hawkers' stalls. It is so crowded, that the poles have become hindrances."
A damaged pedestrian island near the HP petrol pump junction in Bandra West
Bandra woes
Pedestrian islands containing art installations at the HP petrol pump junction in Bandra West have also been taken over by drug addicts and vagrants. The islands, created on all four sides of the junction, were made of marble. "Within a few months, the islands were damaged and captured by junkies and beggars.
Also read: Diwali 2023: 5 spots around Mumbai that let you admire the lights
Maintenance is a bigger issue than building new structures. Even Bandra reclamation promenade is a mess," said Deyasini Chaudhari, a local.
Another resident, Zameer Palamkote, said the islands were created to help pedestrians cross the junction safely but taxi drivers have been using them as parking lots for the past six months. "Earlier, they used to park in the middle of the road at the island but as the BMC removed some poles, it gave them open access. Miscreants are seen on the islands and it has become a safety issue," he said.
Fake sunflowers in Prabhadevi; (right) Posters mar the pillars of Mrinal Gore flyover in Goregaon. Pics/Prajakta Kasale
Questionable aesthetics
Though the BMC has spent lakhs on painting flyovers, commuters said the results leave much to be desired. "Everyone looks at art through their own lens. But when it comes to public places, there must be some standards," said Ram Kulkarni, a commuter.
"The BMC painted a flyover in front of Phoenix mall at Lower Parel but they could have done better. Besides, there is a garbage bin on the road and dumping spots under the flyover. What is the use of beautification without eliminating these sites?" said Nilesh Jadhav.
Another commuter said the pathway under the Mrinal Gore flyover in Goregaon is in bad condition and that there are posters on pillars.
Many projects across the city were corrected or removed by the BMC after they were criticised on social media. Painted walls along footpaths are one of them. The colours faded in the rain and they have now become an eyesore. "Big, illuminated sunflowers were installed on medians in Worli and Prabhadevi. Many of them were broken eventually. After pictures of them went viral, the BMC got rid of them, so now only a few still stand and they are mostly poorly lit," said a shopkeeper.
"Three sunflowers were broken on Pandurang Budhkar Marg in Prabhadevi. We will rectify the situation," said a G South ward official.
The damaged traffic island outside Mahim station, which is a haunt for substance abusers
Misery island
At Mahim, a 'beautified' traffic island has been turned into a dumping yard inhabited by drug addicts and drunks. The island, on the west side of the railway station, was decorated with blue lights, an art installation and plants. "The blue lights were stolen, the railings of the plantation are broken and one can see alcohol bottles on the site. The site was beautiful but if you cannot maintain it even for a few months, what is the point of wasting public money just to please someone?" said Urich Kamath, a Mahim resident. An official from the G North ward said that the beautification was carried out around a year ago. "Our aim was to develop an open space to make the people feel good, but we do not have control over miscreants. This happened with other spots also. We will try to develop it once again," said the official. Asked what action would be taken if miscreants ruined it once again, he could not answer.
The garbage is strewn around a statue of Koli fisherfolk at Mulund. Pic/Rajendra B. Aklekar
Installation or dumping site?
A recently installed statue of Koli fisherfolk in a boat on the Eastern Express Highway at Mulund junction now serves as a dustbin. "The area surrounding the installation stinks and is unbearable to stand the stench. The artwork, along with wall murals and a few small statues, was put in place a few months ago by the authorities as a part of the beautification drive," Alpesh Prakash Shah, a resident of MHADA colony, said. "The small statues have been placed near the highway. They were initially wrapped in plastic but are now uncovered. They are, however, in good condition. Several 3D murals adorn the walls on either side of the highway," he added.
The drive
Chief Minister Eknath Shinde and Deputy CM Devendra Fadnavis formally kicked off 687 beautification works in the city and suburbs in December 2022. The CM announced that another 1,200 works would be executed in the next phase at a total cost of around Rs 1,700 crore. Of this, around R400 crore has been spent on illumination while R51.17 crore has been used to illuminate skywalks. BMC officials are not ready to divulge exact expenditure details. Vinayak Vispute, assistant commissioner of H West ward (Bandra) and Prithviraj Chauhan, assistant commissioner of K West ward (Andheri) did not respond to mid-day's queries on Sunday.
ActivistSpeak
Nikhil Desai, an activist
"The Rs 1,700 crore beautification project was ill-conceived from the beginning. The walls that were painted had no common theme. Also, the paint got washed out in one rainy season. I wish the BMC had painted zebra crossings across the entire city."
He added that money should be spent on better things, citing the example of Colombia's second-largest city, Medellin, which recently spent just R135 crore to create 30 green corridors containing 30 lakh trees and plants.