Mumbai Diary: Thursday Dossier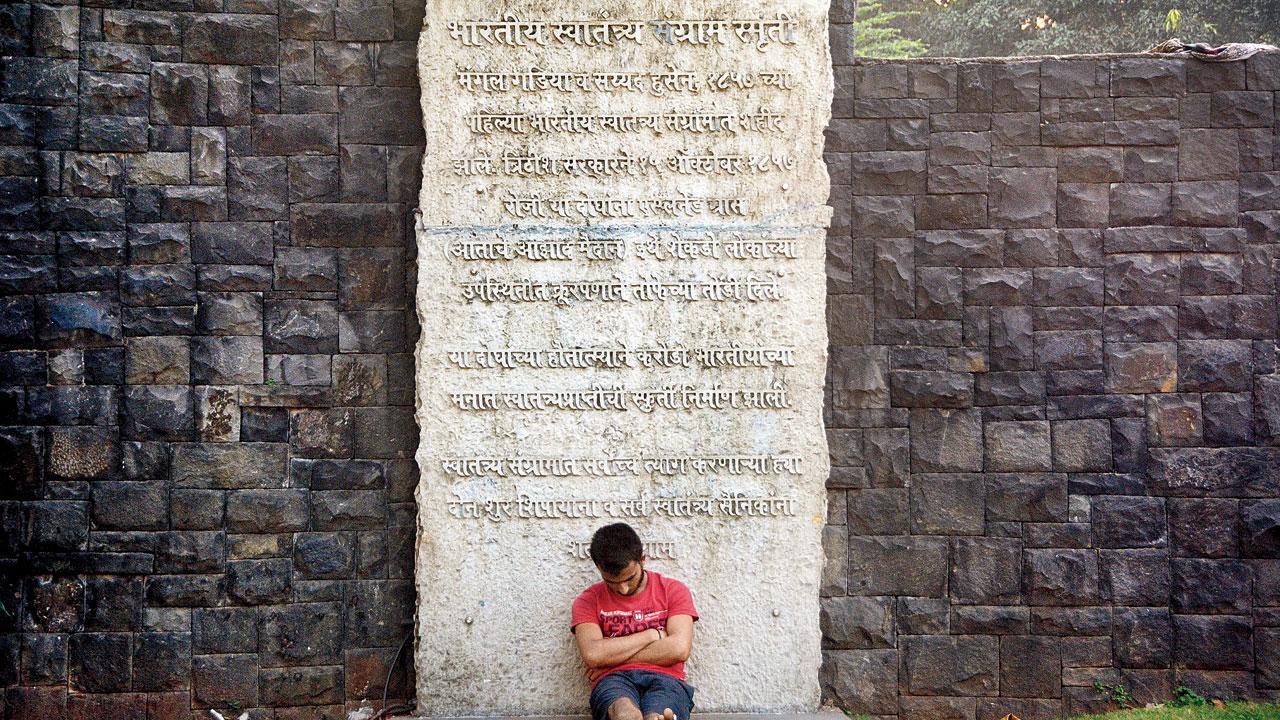 Freedom to dream
A man naps using the support of the 1857 Rashtriya Swatantrya Sangram Smruti memorial near one of CSMT subway entrances
Early Christmas
A postcard sent by a participant during a previous swap
In an attempt to keep the joy of exchanging postcards on Christmas alive, city-based Anushka Sawarkar and Bengaluru's Anamica Jain are hosting a global exchange of postcards, the registration for which began yesterday. "This is our fifth year of hosting the exchange. It's just like secret Santa, but with postcards," the duo told this diarist. "We have over 500 participants across the globe enrolling for this every year. A lot of people participate because they have never written or received a postcard before. We don't charge any fee for this because this is something we love," they added. The registration will be open for the next five days. So, what are we waiting for? Christmas? Log on to @anushka.postcards for more details.
Little hearts beat for Hanging Gardens
We know the future is in good hands, when you read something like this. Those following the Hanging Gardens imbroglio will be aware of resistance to a proposal to cut at least 389 trees for a new water reservoir at the Malabar Hill green space. Now resident Ishay Dalal, all of five years old, has written a letter to authorities, and is hoping to reach Prime Minister Narendra Modi to save his beloved Hanging Gardens. His letter reads:
'Hi, I'm Ishay and I'm 5! Hanging Gardens is super-duper amazing! It's like a magical jungle with flowers and trees that touch the sky. There are birds, butterflies, and even secret places where I pretend to be a treasure hunter. My ma said they want to cut it down for 'in-fras-truck-shoor' but I think that's not cool. Hanging Gardens is where I have picnics with my dinosaur Drogo, where we eat lollipops and cheese puffs. The flowers there smell like candy, and the trees give hugs when I try to climb them.
Ishay Dalal has made a poster for the cause with his dinosaur Drogo
I feel like I live in a tree house because my home towers over this jungle. Please, please Mr Prime Minister, don't let them take my enchanted forest away. I need it to have adventures and make memories. We can build 'in-fras-truck-shoor' somewhere else, right? Hanging Gardens is my treasure, and I want to keep it. Thank you for reading my letter. I believe you are our country's super-hero and you can save the day!'
The letter is signed by the young crusader, with high-fives and bear hugs. Like Dalal, our little green warrior says, let us rethink 'in-fras-truck-shoor' that comes at the cost of our green spaces.
SOI's desi sojourn in the UK
(From left) Zakir Hussain on tabla, Niladri Kumar on sitar and Rakesh Chaurasia on basuri at a previous show
After the Symphony Orchestra of India's (SOI) recent Autumn 2023 season, they have announced their second UK tour schedule for this month-end. Speaking about the orchestra's return to the UK after its 2019 maiden tour, Khushroo N Suntook (right), co-founder of SOI and chairman of the National Centre for the Performing Arts shared, "The 2019 tour was a successful one due to the excellence of the orchestra and stalwarts including Zakir Hussain, who joins us again for this tour." The tour will witness Hussain's Triple Concerto alongside Niladri Kumar and Rakesh Chaurasia.
Adam on a plate
The dessert is plated in a frame
Bandra's Nava has retired their Starry Night painted dessert for another ambitious plate that recreates Michelangelo's The Creation of Adam. The dessert, dressed with persimmon and passionfruit sponge cake, mousse and candied fruit, is hand-painted with crème anglaise.
"We're using seasonal fruits, so now it's made with muskmelon till persimmons are in season," said Akash Deshpande (right), chef de cuisine. This is introduced with a new food menu, and cocktail list inspired by famous artistes. Pastry chef Freya Pinto has been practising the detailed brushstrokes for two months to master the edible artwork.