Mumbai: Delisle bridge closed again after Aaditya's unofficial opening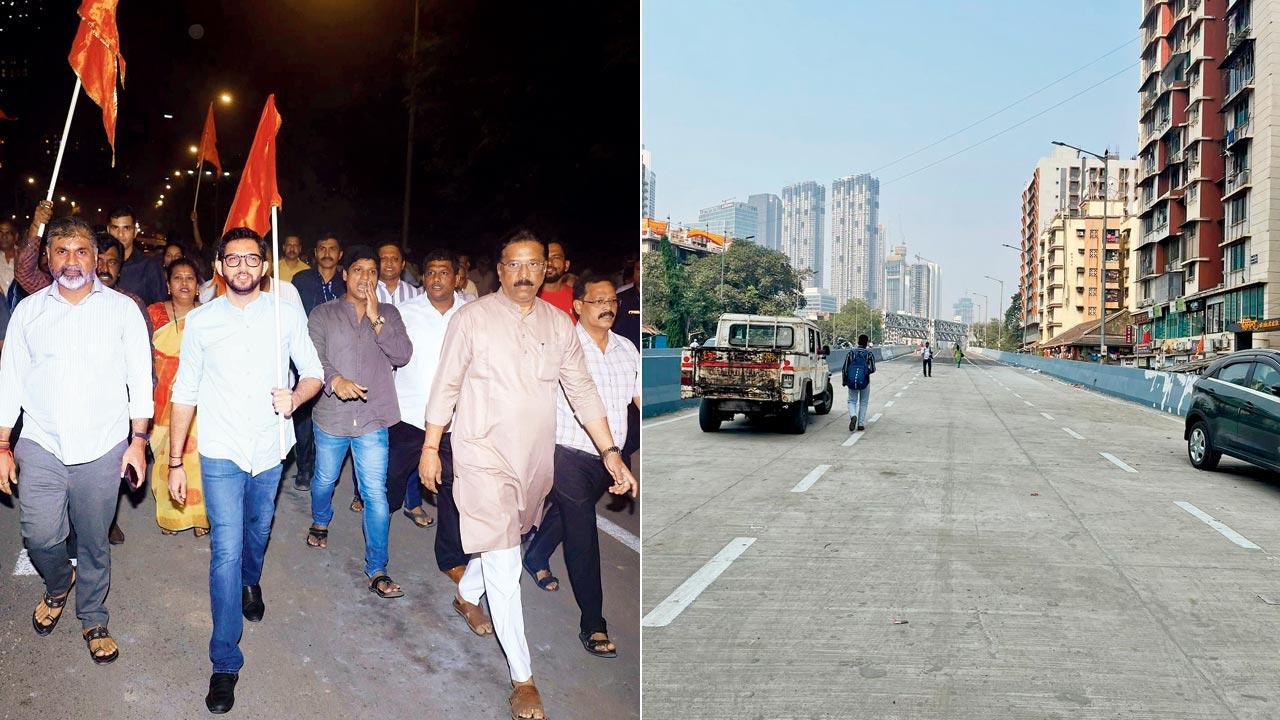 After an unofficial inauguration by Shiv Sena (UBT) leader Aaditya Thackeray, the Brihanmumbai Municipal Corporation (BMC) announced that the Delisle Road bridge at Parel will be opened within the next three to four days. The completion of this bridge`s construction has already been delayed by a year. Back in February 2023, mid-day was the first to report that the bridge was slated for reopening post-monsoon.
Initially declared dilapidated in 2018, the bridge—that runs over the railway tracks near Lower Parel station—was promptly closed to traffic. Ever since the bridge has been under construction. The reconstruction process has lingered over five years, causing difficulties for commuters and motorists. Later on, only one lane, connecting the west and east sides of Lower Parel, was made available to the public this September.
Thursday night saw the unofficial inauguration of the bridge`s second arm by Thackeray; however, the bridge was later shut down by the BMC. Thackeray criticising the BMC and the guardian minister took to Twitter and said, "It has been almost 10 days that the other side has been ready and waiting for a VIP to inaugurate it. We inaugurated it last night and today, the BMC under the pressure of Khoke Sarkar has closed it down again, waiting for a govt inauguration, only to trouble the citizens of Mumbai. Why can't it be thrown open for the people instead of waiting for the guardian minister's ego and convenience?"
Former mayor Kishori Pednekar, said that despite the bridge`s completion, it remained closed, causing suffering to ordinary citizens. Meanwhile, Commissioner I S Chahal has urged swift completion of pending work to open the bridge fully to the public. An official from the BMC said, "The final touches for the second lane of the bridge are near completion. Once essential finishing tasks such as signal system installation, street light setup, and lane marking are done, all lanes will open to traffic."
2018
Year the bridge was closed