Maha MLAs hold protest at Raj Bhavan, seek special session to address issue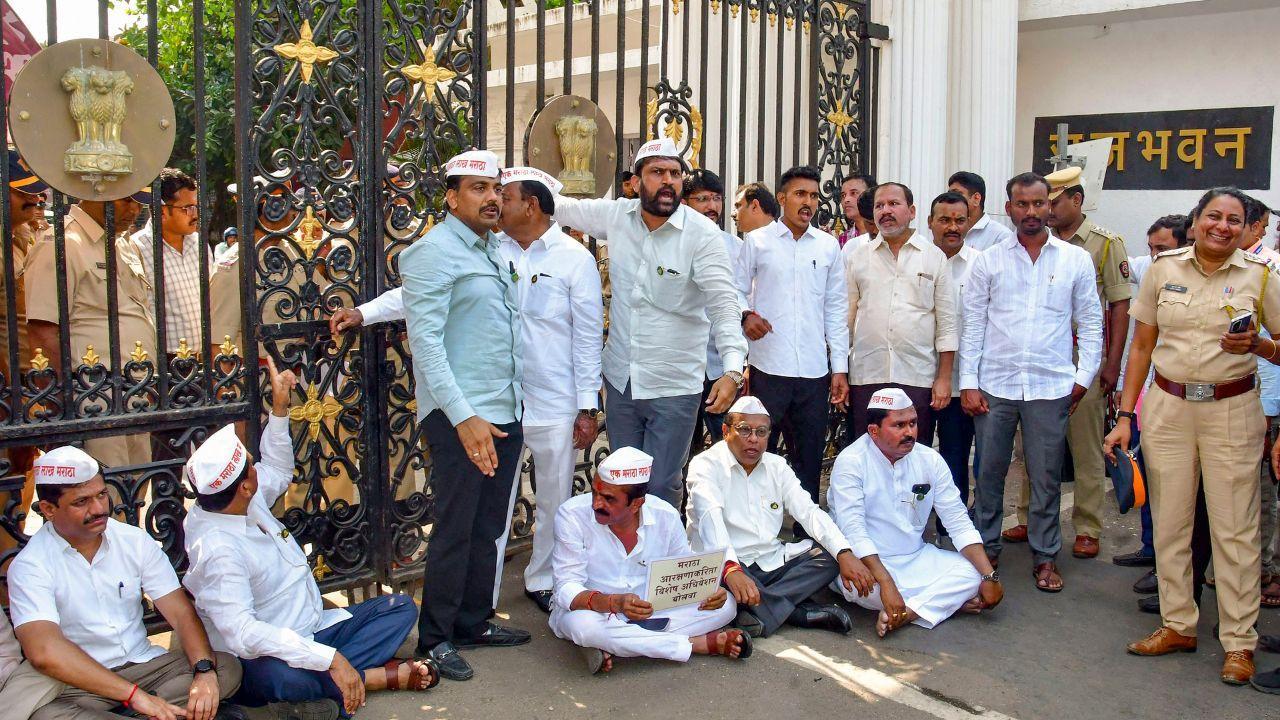 Three MLAs from Maharashtra, including two from the NCP`s Ajit Pawar faction, held a protest outside the Raj Bhavan in south Mumbai on Tuesday. They demanded the convening of a special state legislature session to address the ongoing Maratha reservation issue, stated a report in ANI.
Nilesh Lanke and Raju Navaghare, both MLAs from the NCP`s Ajit Pawar group, along with Kailas Patil, a legislator from the opposition Shiv Sena (UBT), initially gathered near the Mahatma Gandhi statue adjacent to Mantralaya (the state secretariat). Subsequently, they staged a protest outside the Raj Bhavan in support of the demand for Maratha community reservations.
Following the demonstration, the legislators were invited into the Raj Bhavan, where they met with Governor Ramesh Bais. After the meeting, Lanke shared that "The Governor informed us that he has taken a review of the current situation in the state. We requested him to call a one-day session of the state legislature so that a bill awarding reservation to the Maratha community in government jobs and education can be presented and passed."
When asked about Bais`s response to their request for Maratha reservations, Lanke mentioned that "The Governor told us he would speak to the President regarding the issue. He also inquired about the (violent) incidents (which occurred during the reservation stir) and the current situation in the state."
The MLAs also plan to meet Deputy Chief Minister Ajit Pawar to further discuss the reservation issue, which has triggered a state-wide agitation within the Maratha community. Lanke stated, "We also spoke to our leader Ajit Pawar after our meeting with the Governor. He invited us for a meeting at his official residence, Devgiri, in Mumbai. We will explain our stance on the issue to him."
Certain areas of Maharashtra, particularly the Beed district, have experienced violence and arson during the ongoing Maratha reservation agitation, with protesters targeting the residences of some MLAs and government properties.
Agitations on roads, highways banned in Nanded
On Tuesday, in Solapur and Pune, protestors hit the roads and burnt tyres on national highways and expressways which resulted in minor traffic disruption. Amid the intensifying violence, Nanded`s collector has prohibited agitations on roads and highways in the district. Collector Abhijit Raut said that the prohibition was brought to ensure uninterrupted movement of vehicles.
"Rasta roko" (block the roads agitation) and rallies on national and state highways besides other roads have been prohibited by the collector in the district, statement released by collector stated.
With PTI inputs