Fugitives In The Mountains-A crime thriller Novel By D.K.Chauhan – PNN Digital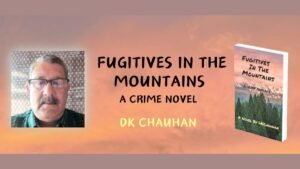 New Delhi (India), November 6: D.K. Chauhan has retired from a managerial post in a job with a top PSU in India. The author always had a flair for writing, but job constraints did not allow enough spare time. After his retirement, he decided to pursue his passion and dreams and delved into writing to pursue a career as an author of crime fiction.
His ambition is to reach out to people who love to read crime fiction novels full of action and thrill written in simple language with an Indian background. He lives in the calm and serene rural area of the Shimla Hills in Himachal Pradesh with his family.
His novel 'Fugitives in the mountains' is his first attempt to publish his work. The novel reflects how people take to crime to achieve their quest to get rich in the easiest mode. It is a story of small town criminals on the run from the police after committing a robbery. The plot moves through remote villages and high mountains covered by dense forests full of wild animals. It is really an adventure in crime full of action and thrills. The book has been recently published in Amazon, both as an e-book and a paperback.
You can get your copies from the Amazon link given below:
Let's delve into the author's insights.
Q1. Tell us something about your book?
Answer: The book is a crime thriller with lots of action and adventure. It is full of twists and turns. What makes it most interesting is that the plot moves through the lap of nature. The story unfolds in the back ground of a remote rural set up, far from the hustle and bustle of the cities, but there is no shortage of pace and action. Reading through, one will feel it like an adventure in crime moving through mountains, villages, valleys and dense forests.
I am a man of the hills. Born and brought up in the mountains I have the experience to make you feel the freshness of nature in my writing.
Q2. How do you define your relationship with the subject matter of your book?
Answer: I was a voracious reader in my younger days. This habit continued throughout my job tenure although it was lessened by the lack of time. My favourite was crime fiction. I would read any crime fiction novel irrespective of the author. This habit eventually led me to dream and aspire to become an author of crime fiction.  I think people like to read books full of mystery, suspense, action and thrills. Crime fiction provides all that. Crime fiction books are enjoyable and gripping.
Q3. What inspired you to write?
Answer : As I have already mentioned I was a big fan of crime fiction. I have read a lot of novels written by James Hadley Chase, Agatha Christie and Robert Ludlum. These were the authors that inspired me a lot. With their inspiration I decided to make my career as an author of crime fiction. My  book 'fugitives in the mountains "is a crime fiction book.
Q4. Could you tell us something more about it?
Answer:   Secondly my family inspired me to pursue with my writing after my retirement. They adjusted their routine time in accordance with my writing hours. Without their support I would never have been able to write, correct, rewrite, edit and publish my book.
Q5. What advice do you want to give your readers?
Answer: Always remember that the story and characters in a fiction book is the concept and imagination of the author which he puts down on paper for readers to enjoy. The reader has to visualize the contents in his mind to actually enjoy the book. A fiction book is the hardest to write because you cannot get any assistance from any outside agency. It is entirely a work of the mind and imagination of the author. Good or bad, just encourage all fiction writers and appreciate their efforts with a free mind.
The book is available on Amazon on the link given below:
If you have any objection to this press release content, kindly contact pr.error.rectification[at]gmail.com to notify us. We will respond and rectify the situation in the next 24 hours.