Eknath Khadse suffered heart attack, undergoing treatment: Supriya Sule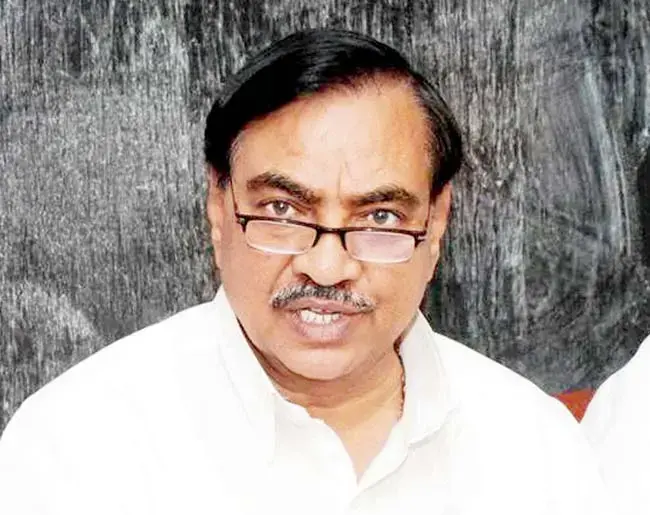 Eknath Khadse, a former Maharashtra minister and member of the legislative council from the Nationalist Congress Party, has experienced a heart attack and is currently receiving medical care, said NCP working president, Supriya Sule, on Sunday.
Sule, in a statement on X, conveyed that she is in contact with Rohini Khadse, Eknath Khadse`s daughter and the president of the women`s wing within the NCP led by Sharad Pawar.
"NCP leader Eknathji Khadse has been admitted to the hospital due to a heart attack. I have spoken to his daughter Add Rohini Khadse and inquired about Khadse Saheb`s health. Khadse Saheb is undergoing treatment and it is believed that he will recover soon and return home safely. I pray to God that they get well soon," she wrote in Marathi.
राष्ट्रवादी काँग्रेसचे नेते एकनाथजी खडसे (@EknathGKhadse) यांना हृदयविकाराचा झटका आल्याने रुग्णालयात दाखल करण्यात आले आहे. माझे त्यांच्या कन्या ॲड रोहिणीताई खडसे (@Rohini_khadse) यांच्याशी बोलणे झाले आहे. यावेळी खडसे साहेबांच्या तब्येतीची विचारपूस केली. खडसे साहेबांवर उपचार…

— Supriya Sule (@supriya_sule) November 5, 2023
Earlier today, Rohini Khadse mentioned in a post that her father had been admitted to a hospital in Jalgaon as he had been feeling unwell for the past two days. She also mentioned that he is being transferred to a hospital in Mumbai to err on the side of caution and that his condition remains stable. She reassured me that there was "no reason to worry."
"Former Minister Honorable MLA Eknathrao Khadse has been admitted to a hospital in Jalgaon as he has been feeling unwell for the last two days and will be taken to Mumbai for further treatment as a precaution. His health is stable. No reason to worry," she wrote.
माजी मंत्री आदरणीय आमदार श्री. एकनाथराव खडसे यांना गेले दोन दिवस अस्वस्थ वाटतं असल्याने जळगाव येथे रुग्णालयात दाखल केले असून सावधगिरी म्हणून पुढील उपचारासाठी त्यांना मुंबईला नेले जाणार आहे. त्यांची तब्येत स्थिर आहे. काळजीचे कारण नाही@NCPspeaks

— Adv Rohini Eknathrao Khadse (@Rohini_khadse) November 5, 2023
Eknath Khadse, a senior leader of the BJP in Maharashtra, had resigned from the party and joined the NCP in 2020. He was elected to the state legislative council in 2022. The leader and his wife have been named as accused in a chargesheet filed by the Enforcement Directorate regarding a Pune land deal case. He was recently granted bail by a special court in Mumbai for criminal cases involving MPs and MLAs and he had to furnish a bond of Rs 2 lakh with one or more sureties of a similar amount.