Chhath Puja: Lakhs of devotees to visit Juhu beach, parking restrictions issued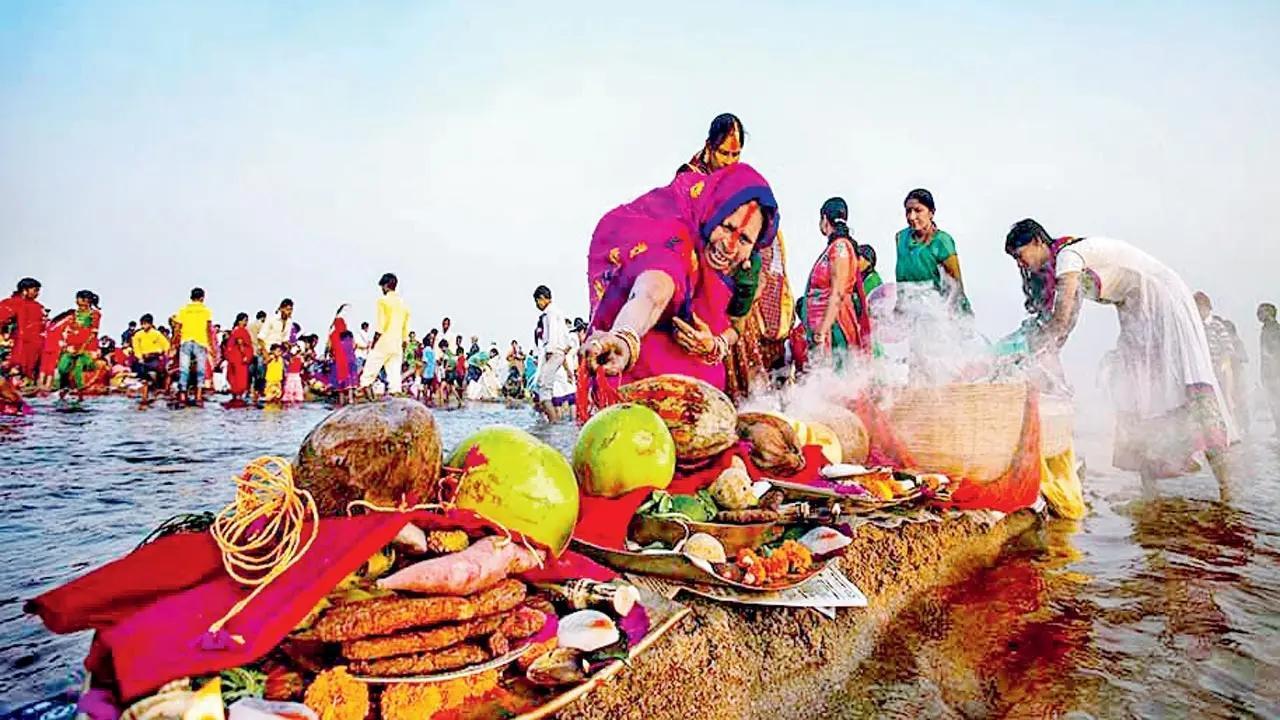 Chhath Puja 2023: Mumbai Police on Saturday issued vehicle parking restrictions for citizens ahead of the Chhath Puja in Juhu area of Mumbai on November 19.
In a traffic notification Mumbai Police said, "The Chhath Puja 2023 will be celebrated from 14.00 hrs. on 19/11/2023 up to 11.00 hrs. on 20/11/2023. About 4 to 5 lakh devotees are expected to congregate at Juhu beach for performing Chhath Puja."
The police said, There will be heavy pedestrian crossing as well as movement of auto rickshaws and other vehicles in large number on Juhu Tara Road, Juhu Road, V.M. Road and Birla Lane. Hence, traffic will be slow on above mentioned roads during these hours. Therefore, people are requested to use S.V. Road and Western Express Highway as alternative route to avoid delay and inconvenience.
No Parking Restriction
1. A.B. Nayar Road (Juhu Church Road (Both Side)
2. Juhu Tara Road (Both Side)
3. Birla Lane
4. V.M. Road (Both Side)
The police said, "Members of public and motorist are hereby requested to please take a note of above changes and co-operate with the police."
In an another traffic notification, Mumbai Police on Saturday issued a traffic advisory for citizens in the city ahead of Indian Navy`s Half Marathon in Mumbai.
The police said, "On Sunday, 19/11/2023, Indian Navy has organised "Indian Oil WNC Navy Half Marathon 2023″ in south Mumbai. There are three different categories of run- 21 km run, 10 km run and 5 km run."
In order to provide free way to runners, and to avoid traffic congestion on the route following changes have been made in regular traffic pattern.
For 21 km, 10 km and 5 km approximately 16,000 runners are participating. Hence on 19/11/2023 special local trains will be operational from 02.30 am on Central, Harbor and Western Railways route. There are no parking places for vehicles around marathon route; therefore people participating in this marathon should use Public Transport to reach the Marathon Place.
Road closed for traffic (Morning 04.00 am to 10.00 am)
1) Veer Nariman Road, 2) M.G. Road, 3) K.B. Patil Road, 4) M.K. Road ( both bound), 5) Walchand Hirachand Marg, 6) D.N. Road, 7) H.T. Parikh Marg, 8) Dinshaw Wachha Road, 9) Hotel Oberio, Hotel Trident and Dorabji Tata Road, 10) Madam Cama Road,11) Solapur Street, Puna Street, Kalyan Street, Thana Street, Kurla Street, Surat Street, Ahmadabad Street, Sant Tukaram Road.
B) M.G. Road- Vasudev Balwant Phadake Chowk (Metro Junction) to Chafekar Bandhu Chowk to (OCS Junction) will be closed for both bounds on Dt. 18-11-2023 at 23.00 hrs to date- 19-11-23 at 10.00 hrs.