Campaigning for 2nd phase ends, voting on 70 seats on Friday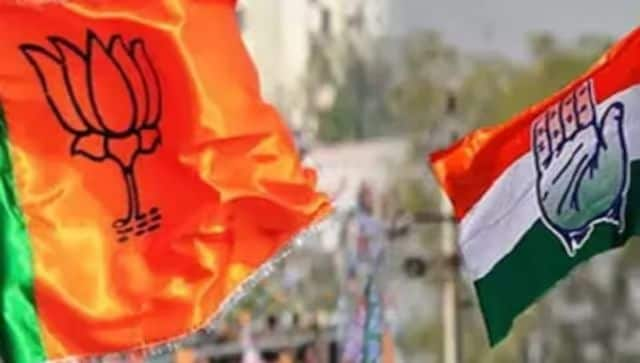 The intense campaigning for the second and final phase of Chhattisgarh polls, scheduled for November 17, concluded on Wednesday evening. The campaign witnessed bitter exchanges between the ruling Congress and the opposition BJP.
Prime Minister Narendra Modi played a prominent role in the BJP's campaign, addressing four well-attended rallies for the second phase. The focus of the campaign was on targeting Chief Minister Bhupesh Baghel's government, particularly over corruption allegations such as the Mahadev betting app scam and recruitment scandal, as well as issues related to Naxalism.
Union ministers Amit Shah, Rajnath Singh, and Smriti Irani, along with BJP president JP Nadda and Assam CM Himanta Biswa Sarma, actively campaigned for the saffron party. Their criticisms were directed at Baghel over the alleged betting app scam and "religious" conversion while accusing the ruling Congress of engaging in appeasement politics.
BJP leaders claimed that the Congress had been battered in the first phase of polls and would be wiped out in the second.
Congress president Mallikarjun Kharge, senior leaders like Rahul Gandhi and Priyanka Gandhi and CM Baghel led the campaign for the ruling party and mounted a counter-offensive claiming that their party is concerned about the interest of the poor while the BJP-led Centre only works for the welfare of the rich.
Congress based its campaign on a slew of welfare schemes rolled out by the Baghel government for farmers, women, tribals and Dalits, and accused the Centre of "handing over" resources to "industrialist friends". It has tried to woo farmers with a promise of loan waiver, also made by it in 2018, and Other Backward Castes (OBCs) with the promise of caste census.
Notably, Baghel on Sunday announced that if his party retains power in the state, women in the state would get annual financial assistance of Rs 15,000.
The announcement, which came just ahead of the second phase of Chhattisgarh elections on November 17, is being seen as a counter to the opposition BJP's promise in its poll manifesto of giving Rs 12,000 per year to married women, which, according to political observers, could work in the favour of the saffron party.
Of the 90 assembly constituencies in the state, the second phase of voting will be held in the 70 spread in 22 districts of the state on Friday. The time of polling in all 70 constituencies is from 8 am to 5 pm, except nine polling booths in the Naxal-affected Bindranawagarh seat in Rajim district, where voting will be held from 7 am to 3 pm.
The polling booths in Bindranawagarh seat where voting will be held from 7 am to 3 pm are Kamarbhaudi, Amamora, Odh, Bade Gobra, Ganwargaon, Gariba, Nagesh, Sahbinkachhar and Kodomali.
Campaigning in these polling station areas ended at 3 pm, while it went on till 5 pm at other places.
In the second phase, the political fate of 958 candidates, including 827 men, 130 women and one transgender, will be decided by an estimated 1,63,14,479 voters, including 81,41,624 male, 81,72,171 female and 684 third-gender. As many as 18,833 polling booths have been set up for the second phase.
Of these polling booths, 700 are 'sangwari' booths which will be managed by women polling personnel, an official said.
At 26, the Raipur City West seat has the highest number of contestants, while it is the lowest in the Daundilohara constituency where 4 candidates are in the fray.
Chief Minister Bhupesh Baghel (Patan seat), assembly speaker Charan Das Mahant (Sakti), Deputy CM TS Singh Deo (Ambikapur) and eight state ministers, including Tamrdhwaj Sahu (Durg Rural) and Ravindra Choubey (Saja), are among prominent candidates from Congress in the first phase.
From BJP, state chief and MP Arun Sao (Lormi), leader of opposition Narayan Chandel (Janjgir-Champa), Union minister of State for Tribal Affairs Renuka Singh (Bharatpur-Sonhat-ST), MP Gomti Sai (Pathalgaon-ST), senior MLA and former ministers Brijmohan Agrawal (Raipur South), Ajay Chandrakar (Kurud) and Punnulal Mohile (Mungeli) are among key candidates for the November 17 elections.
Chief Minister Baghel has been contesting from his traditional Patan seat where BJP has fielded his distant nephew and party MP Vijay Baghel. The entry of Janata Congress Chhattisgarh (J) state president and son of former chief minister Ajit Jogi, Amit Jogi, in the fray from Patan has added another dimension to the contest.
BJP has fielded a fresh face, Rajesh Agrawal, against TS Singh Deo in Ambikapur. Agrawal had joined the BJP, quitting Congress ahead of assembly polls in 2018. On the last day of campaigning, Amit Shah, JP Nadda, Himanta Biswa Sarma and Rahul Gandhi were among the prominent leaders who canvassed for their respective parties.
In the previous assembly polls in 2018, Congress had won 51 of these 70 constituencies, while BJP ended up with 13 and Janata Congress Chhattisgarh (J), or JCC (J), four and Bahujan Samaj Party (BSP) two. Congress later won one more seat in the bypoll.
The first phase of elections on 20 seats was held on November 7, which saw a high voter turnout of 78 per cent.
The Congress had registered a landslide victory in the 2018 polls, winning 68 seats, and comfortably formed the government. The BJP was reduced to 15 seats, while the JCC (J) and the BSP bagged 5 and 2 seats, respectively.
The current strength of the Congress is 71.
With PTI inputs.