Bridging the Gap Between Tech and Thrills in 'Operation Ghost Protocol – PNN Digital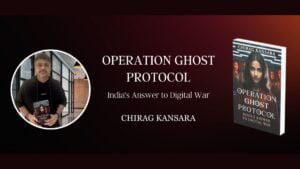 New Delhi (India), October 26: "Chirag Kansara's deep-rooted connection with the tech world, thanks to his extensive career, has played a pivotal role in shaping 'Operation Ghost Protocol'. His intricate knowledge of evolving cybersecurity threats, combined with firsthand exposure to the latest technologies, has allowed him to craft a narrative that's not just thrilling but also grounded in reality. The plot intricacies, character developments, and tech details in the book reflect Chirag's profound understanding of the challenges and nuances of the digital age. It's this unique amalgamation of real-world knowledge and creative storytelling that sets the book apart, offering readers a glimpse into the tech world's thrilling underbelly."
Link to the book:- https://amzn.eu/d/7GHPk7V 
Let's delve into the author's insights.
Question 1: How did you develop the concept of "Sexpionage" as a central theme in the story?
Answer: "An article about a DRDO scientist ignited the spark for the 'Sexpionage' topic." As I dug deeper, the layers began to show themselves, exposing a tapestry of similar unsettling incidents. It hit me: this wasn't simply espionage but a new kind of weapon shrouded in seduction and deception. I felt compelled to bring this to light, to pull back the curtain on this dark plot and show it to the public. Thus, the concept was formed, fusing truth and imagination, lighting shadows where dark secrets dwell."
Question 2: What inspired you to write a techno-thriller about cyber warfare and espionage in India?
Answer: "The fabric of India's technological prowess mixed with its ancient cultural heritage has always piqued my interest." While reflecting on my literary contribution, I found that techno-thrillers, a thriving genre globally, had curiously missed the Indian literary landscape. Given my quarter-century expertise in IT and technology, venturing into this unexplored domain seemed almost coincidental. I saw it as a perfect opportunity to highlight India's role as the world's technical backbone and to pioneer a genre that combines our technological accomplishments with the intricate espionage network."
Question 3: What kind of research did you conduct to ensure the accuracy of the cyber warfare elements in the story?
Answer: "I've always wanted to understand cyber warfare, so I've been reading up on it for years." For this book, I researched various incidents of Sexpionage in India and how countries such as the United States and Russia handle similar concerns. It is critical to understand how governments are fighting themselves against these digital dangers. I also spent time researching various hacking tactics, tools used by crooks, and how they preserve their online anonymity. This included learning about proxies and other ways of concealing their digital footprints. In addition, I explored various areas of the dark web to obtain an authentic flavour of the digital underworld. This research was necessary to make the story accurate and relevant."
Question 4: What messages or themes are you hoping readers will take away from "Operation Ghost Protocol"?
Answer: "First and foremost, I wrote this novel to give readers an enthralling new-age thriller experience." But, beyond the delights, I hope to shed light on the dark games our enemies play in the digital realm. I want to emphasise the significance of cyber awareness by demonstrating how seemingly innocent chats or phone calls may quickly escalate into dangerous circumstances, compromising not just individual safety but also national security."
Question 5: What challenges did you face while writing a book about technology, and how did you overcome them?
Answer: "The biggest barrier at first was my apprehension about delving into such a technical topic." 'Are we, as a reading public, ready for this?' I wondered, 'Will the technical subtleties alienate popular readers?' But, after much thought, I concluded that the theme's importance and urgency must be noticed. I injected the narrative with creative liberties to make the technological parts more digestible, ensuring that even tricky concepts were presented in a manner understandable to the average reader."
Question 6: Do you have plans for a sequel or other works in the same genre, and if so, what can readers look forward to in the future?
Answer: "Absolutely!". I'm now researching a few exciting topics, and if all goes well, I'd love to write a sequel to this book. More thrilling experiences, new obstacles, and a deeper plunge into cyber warfare and espionage await readers. "Watch this space!"
For more information https://www.operationghostprotocol.com/
If you have any objection to this press release content, kindly contact pr.error.rectification[at]gmail.com to notify us. We will respond and rectify the situation in the next 24 hours.