BMC conducts major demolition drive in Marve, 63 shops and huts demolished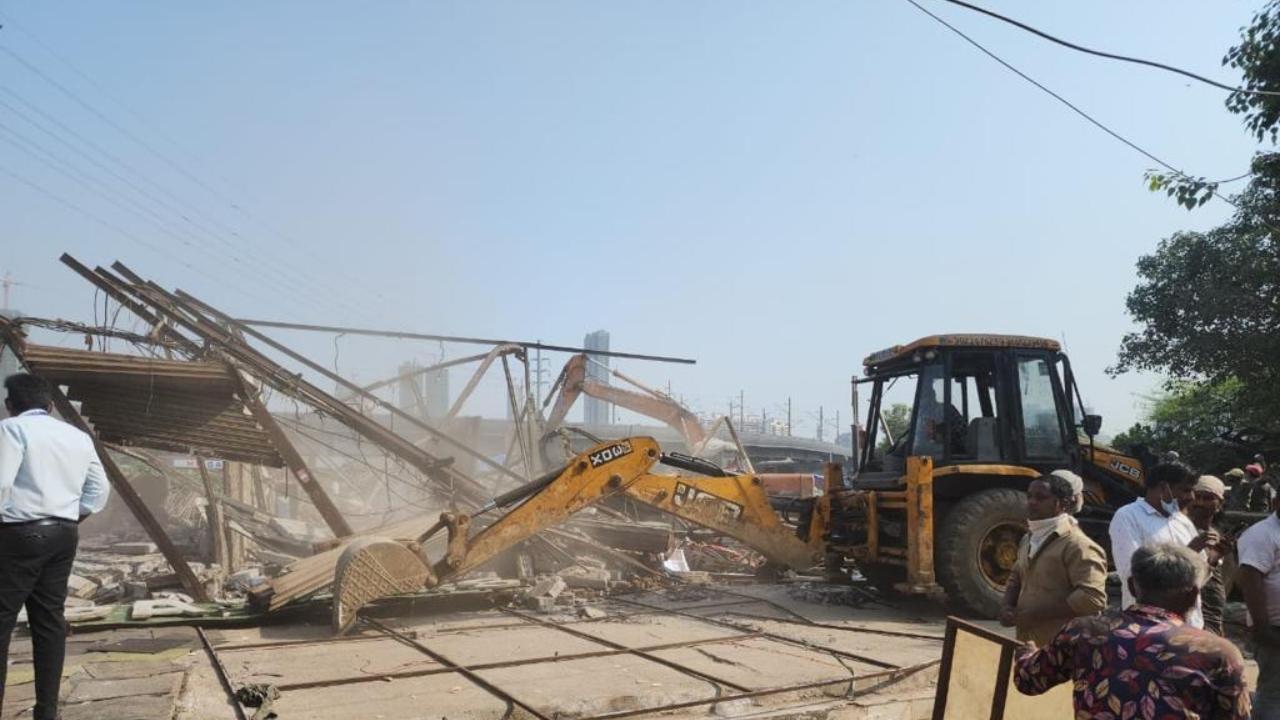 The P North Ward of the Brihanmumbai Municipal Corporation (BMC) in a demolition drive on Thursday cleared multiple encroachments on a 6-acre land plot belonging to Atharva Mahavidyalaya, located in Marve area of Mumbai, an official statement by the BMC said.
According to the civic body, This land, initially intended for recreational and sports purposes, was slated for transfer to the BMC through the Collector`s office. A total of 63 furniture shops and huts were removed, making way for a 6.91-acre park space. Local MP Gopal Shetty was present during the operation.
It said, Over the last two decades, the land had faced widespread encroachments. This clearing was deemed necessary for the development of the Jagewar Theme Park project, requiring the eviction of unauthorised shops and huts. Notices for eviction were issued to the concerned shop and hut owners in July 2023. Although the land for the Vedic Park had been transferred to the Brihanmumbai Municipal Corporation through the Suburban District Magistrate`s Office, clearing the encroachments in Sadar Jagewar was a vital step. Deputy Commissioner Vishwas Shankarwar, and Assistant Commissioner of the P North Ward, Kiran Dighavkar, led the encroachment removal action as per instructions.
Kiran Dighavkar informed that 8 shops with proper documentation would be offered alternative accommodation or financial compensation at the department level, the civic body said.
The demolition drive involved 14 engineers and 62 employees. Three JCBs and 60 dumpers were deployed to expedite the clearance. Following this drive, the plot is set for leveling work and further development.
Meanwhile, The Brihanmumbai Municipal Corporation (BMC) has declared another deadline to open the Gokhale bridge in Andheri for traffic. According to civic officials, two-way single lane traffic will be allowed on the bridge by February 15, 2024. This is the 5th time BMC has set a deadline for Gokhale bridge.
On Wednesday, civic chief I S Chahal met Western Railway General Manager Ashok Kumar Mishra regarding the Gokhale bridge construction at the Western Railway headquarters. MLA Amit Satam, Additional Municipal Commissioner P Velrasu, and Deputy Municipal Commissioner Ulhas Mahale were also present during the meeting. Chahal demanded a sufficient time block for the launching of the girder. Ashok Kumar Mishra suggested that the BMC submit a complete plan of girder launching and the blocks needed.