Anisa the leading Premium Imitation Jewellery Brand is set to launch in India – PNN Digital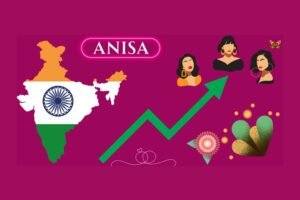 Anisa the leading Premium Imitation Jewellery Brand is set to launch in India
Beelom Media Private Limited is proud to introduce its latest venture, Anisa, a brand dedicated to redefining the world of artificial jewellery. Anisa, under the visionary leadership of its core team members: Akhilesh Dabral, Deepak Rawat, and Vijaypal Singh, is set to make waves in the Indian market and beyond.
About Company
Beelom Media Private Limited is a forward-thinking company that aims to create innovative and impactful brands. With a focus on quality, design, and affordability, the company is committed to providing exceptional products and experiences to its customers. Anisa is the latest venture from Beelom Media Private Limited, set to enter the imitation jewellery industry.
Anisa's mission is clear – to cater to the needs of Indian women by offering gorgeous, high-quality imitation jewellery at affordable prices. With a strong focus on design and craftsmanship, Anisa aims to empower women to embrace their individuality and style at an affordable price.
A Visionary Approach to Jewellery 
In a market flooded with mass-produced jewellery pieces, Anisa stands out with its fresh and design-centric approach to imitation jewellery. While many companies compromise on jewellery quality, Anisa takes pride in its uncompromising commitment to high-quality craftsmanship. Each piece is carefully designed, representing the spirit of Indian aesthetics while ensuring a global appeal.
Expanding Horizons
While Anisa's journey begins in India, the brand has ambitions that extend far beyond. Currently making its mark in Armenia, Georgia, and Montenegro, Anisa is set to conquer new territories with its unique offering. Although presently 60% of their jewellery is sourced from the UAE and Thailand, they are taking significant steps to strengthen their 'Made in India' commitment. Their future plans include the establishment of a manufacturing unit in India, aligning with the 'Made in India' initiative. This strategic move is guided by their vision to transform India into the epicentre for both sales and shipping to all other countries. By doing so, they aim to seamlessly match international quality with Indian craftsmanship.
A Commitment to Quality
Anisa is a self-funded initiative with an initial investment of $120,000 USD assigned to the Indian market. Akhilesh Dabral, a significant shareholder holding 70% of the company's shares, has invested 85 lakh in the Indian market, reflecting his confidence in the brand's potential.
Diwali Festive Season Debut
The stage is set for Anisa's grand launch during the Diwali festive season, a time when India is at the height of celebration. Diwali is the most well-known festival in the country, marked by vibrant traditions and the joy of family gatherings. It's also a season where people, especially females, are more willing to test new products and embrace fresh styles. With a wave of discounts and offers provided by almost all e-commerce brands, Anisa is strategically leveraging this festive event to make its entry into the market with captivating deals and exciting offers.
Marketing Strategy
Anisa has adopted an all-rounder approach to marketing by targeting the big Tier 1 cities to the smaller Tier 3 towns. With a focus on female consumers, the brand seeks to empower women of all backgrounds to embrace their unique style. To make it super convenient for customers, Anisa's stunning jewellery pieces will also be available on popular shopping marketplaces like Amazon, Flipkart, Nykaa, Nykaa Fashion, Myntra, Ajio, Tata Cliq, Ferns N Petals, Zivame, Reliance Trends, Pantaloons, and more. 
A Bold Vision for the Future
Anisa has set its eyes on becoming a leading brand in the imitation jewellery sector by 2025. Beyond jewellery, the brand plans to expand its offerings to include cosmetics and other fashion accessories. In fact, the company is targeting to achieve 100 crore ($12 million) in revenue by the end of 2024.
To meet domestic demand and establish itself as a central hub for other Asian and European markets, the company is also planning to set up a manufacturing unit in the country; it has already initiated its operations in Armenia and Georgia and is currently in the process of establishing its brand presence in Montenegro.
Anisa, the latest venture by Beelom Media Private Limited, is ready to take off; with a commitment to quality, affordability, and design, they aim to empower women to embrace their unique style. Its visionary approach, expansion into international markets, and 'Made in India' commitment signify its dedication with plans to expand into cosmetics and fashion accessories. Let's wait and look forward to all the exciting things Anisa has in store.
If you have any objection to this press release content, kindly contact pr.error.rectification[at]gmail.com to notify us. We will respond and rectify the situation in the next 24 hours.