All India Mushaira Honoring Smt. Indira Gandhi by Ilm o Adab Foundation – PNN Digital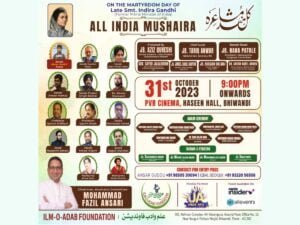 Thane (Maharashtra) [India], October 31: In a remarkable display of literary and cultural heritage, the Ilm o Adab Foundation, under the leadership of Chairman Mohammed Fazil Ansari, is proud to present the All India Mushaira, commemorating Smt. Indira Gandhi, the former Prime Minister of India. This exceptional event promises an unforgettable evening of poetry, literature, and remembrance.
Unique Features of the Event
Distinguished Poets from Across India: The event boasts a lineup of eminent poets who will enthrall the audience with their words. The list of poets includes Dr. Nawaz Deobandi, Gauhar Raza, Charan Singh Bashar, Malikzadeh Javed, Zakir Khan Zakir, Professor Qasim Imam, Sajjad Jhanjhat, Professor Qamar Siddiqui, Irshad Anjum, Ameer Hamza, Muzammil Dehlavi, Mohtarma Alina Itrat, and Mohtarma Dipti Mishra. The versatile and accomplished Janab Abraar Kashif will serve as the compere, ensuring a mesmerizing poetic experience for all.
Media Partner: Unique Arts: We are delighted to announce Unique Arts as our esteemed Media Partner for this prestigious event. Their support and collaboration add an extra layer of distinction to our Mushaira, ensuring that the essence of this cultural celebration reaches a wider audience.
Special Guest Appearance: The event will be graced by the presence of distinguished guests, including Janab Aziz Qureshi, Former Governor of Uttar Pradesh, Uttarakhand, and Mizoram, Janab Jameel Abdul Ghaffar, Incharge-Diniyat Samadhiya High School, Janab Tariq Anwar, National General Secretary of the INC, JB. Hussain Dalwai, Former Member of Rajya Sabha, JB. Nana Patole, President of the Maharashtra Congress Committee, Dr. Sheikh Aqeel Ahmed, Former Director of the National Council for Promotion of Urdu Language, and Adv. Sayed Jalaluddin, National General Secretary & Chairman Minorities Department, NCP.
Mushaira Happening in Mumbai: This Mushaira event is a testament to the vibrant literary and cultural landscape of Mumbai. It showcases the city's deep-rooted connection to Urdu poetry and literature.
Honoring Those Who Serve the Community
The Ilm o Adab Foundation, led by Mohammed Fazil Ansari, has been dedicated to various social initiatives for over two decades. Their commitment to medical aid, food distribution, education, and other charitable endeavors has made a profound impact on the community. Initially, their work was quiet and without formal recognition, but as more individuals joined their cause, they decided to formalize their efforts under the banner of "ILM-O- ADAB FOUNDATION."
A Pillar of Support
Adv. Sayed Jalaluddin Adv. Sayed Jalaluddin, National General Secretary and Chairman of Minorities at CWC-NCP, is the revered Patron of Ilm o Adab Foundation. His unwavering dedication to community betterment, education, and literature has been instrumental in driving impactful change and growth within the community. Adv. Sayed Jalaluddin stands as a pillar of support, guiding the foundation's mission.
For more information and to attend this memorable Mushaira event, please visit Ilm o Adab Foundation's official website.
About Ilm o Adab Foundation
Ilm o Adab Foundation is a dedicated organization that strives to make a positive impact on society through various social initiatives. Led by Chairman Mohammed Fazil Ansari, the foundation has been serving the community for over two decades, focusing on areas such as medical aid, food distribution, and education.
Unique Arts, our esteemed Media Partner, is dedicated to promoting and highlighting the diverse cultural and artistic endeavors within our community. Their collaboration with us underscores their commitment to celebrating and preserving the rich heritage of literature and the arts.
Location: PVR Cinema, Haseen Hall, Bhiwandi
For Media Inquiries
Website: ilmoadabfoundation.com
Email: info@ilmoadabfoundation.com
Phone: 9850530094 / 9322056508
Follow us on:
Facebook: https://www.facebook.com/people/Ilmoadabfoundation/61552644001825/
Instagram: https://www.instagram.com/ilmoadabfoundation/
Youtube: https://www.youtube.com/@ilmoadabfoundation/featured
If you have any objection to this press release content, kindly contact pr.error.rectification@gmail.com to notify us. We will respond and rectify the situation in the next 24 hours.