Mumbai: Degree College students innovate unique 3D solutions to urban challenges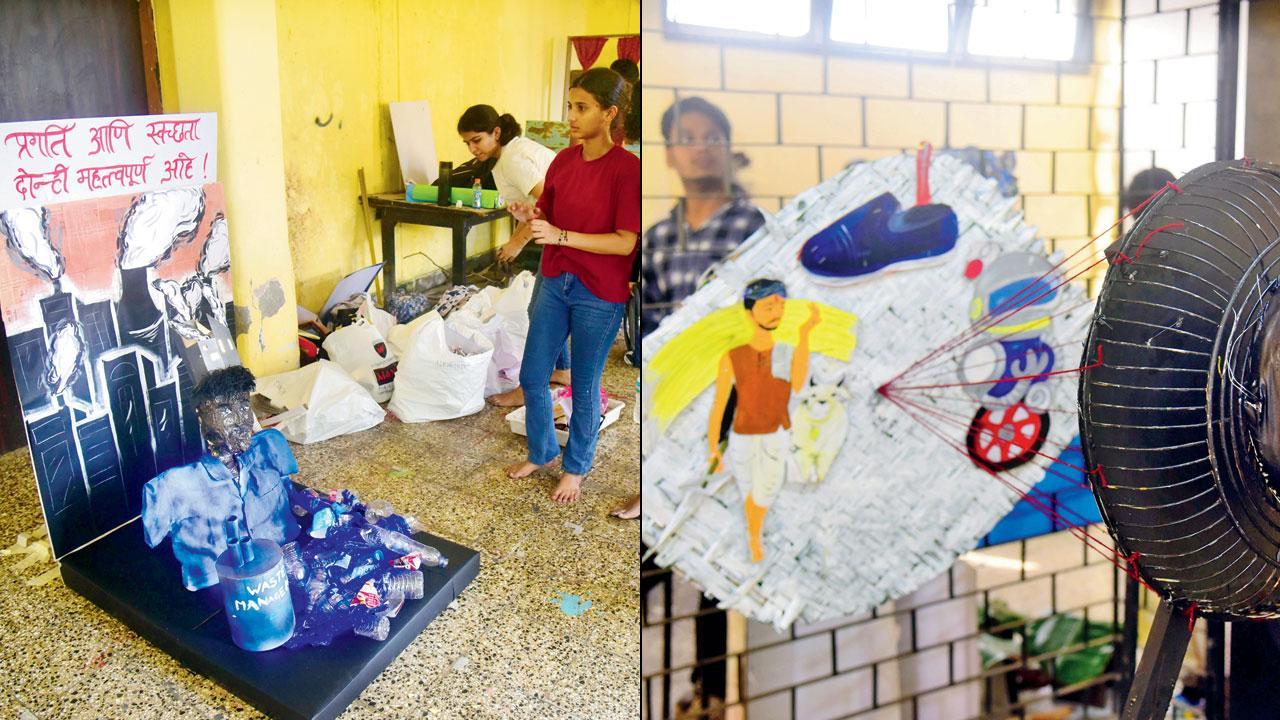 As part of Mumbai University's inter-collegiate youth festival, students came up with innovative solutions to urban issues and crafted three-dimensional models to demonstrate the causes of and cures for various problems.
Around 50 degree colleges across Mumbai participated in a competition, 'Installation', themed 'Best out of Waste' in the contest on Tuesday. The competition comprised two topics, waste management and industrial development, and participants were tasked with creating models on either one. Most participants concentrated on the former subject.
"Every year, we try finding out topics which are closely related to current issues as well as developments in various sectors. The basic idea behind the selection of topics is to spread awareness among the youth not just about the issues faced by society but also by those causing harm to the environment," said Nilesh Sawe, cultural and youth festival coordinator of Mumbai University. "We do not allow students to disclose their identity as well as college identity as it may create bias in judging phases," said another coordinator.
Waste management
The models created by students dealt with waste accumulation and pollution caused by waste material. "Waste management is necessary in today's world. Our model depicts the four Rs: reduce, reuse, recycle and recreate. We hope to see an increase in the use of this concept," said Khushi Sharma, a participant.
Another student, while describing his model to the judges, said, "Wet waste should be sent to the fuel industry for the generation of cooking gas as an alternative to LPG. Solid waste management is the need of the hour." Rushikesh Dhupkar, a participant, said, "Segregation of dry and wet waste is very important so that the former is recycled and the latter is converted to manure".
Another student pointed out that microplastics are found in clouds due to plastic pollution, which poses a major threat. She also highlighted the fact that water treatment plants for chemical waste are a necessity as factories often drain chemicals into local water bodies and oceans.
One model depicted a robot handling radioactive waste while another showed how Germany, Japan and the USA decompose used-up tin cans into a liquid and how the gases released during this process are used in the generation of electricity. "Global unity is a must to overcome the issue of waste accumulation," said a pupil.
Industrial development
Many models were seen depicting the textile industry and its growth. "Economic development is an effect of industrial development. Great vision leads to great development. Job opportunities are created by developing industries," said Saloni, a participant. One model depicted the development of the Indian Space Research Organisation.
"Industrial development leads to social development. Since the dawn of the industrial revolution, industries have seen a boom in various sectors and are still developing," said another participant. Some models also shed light on the negative aspects of industrialisation.