Eknath Shinde, Sharad Pawar pay homage to Indira Gandhi on her birth anniversary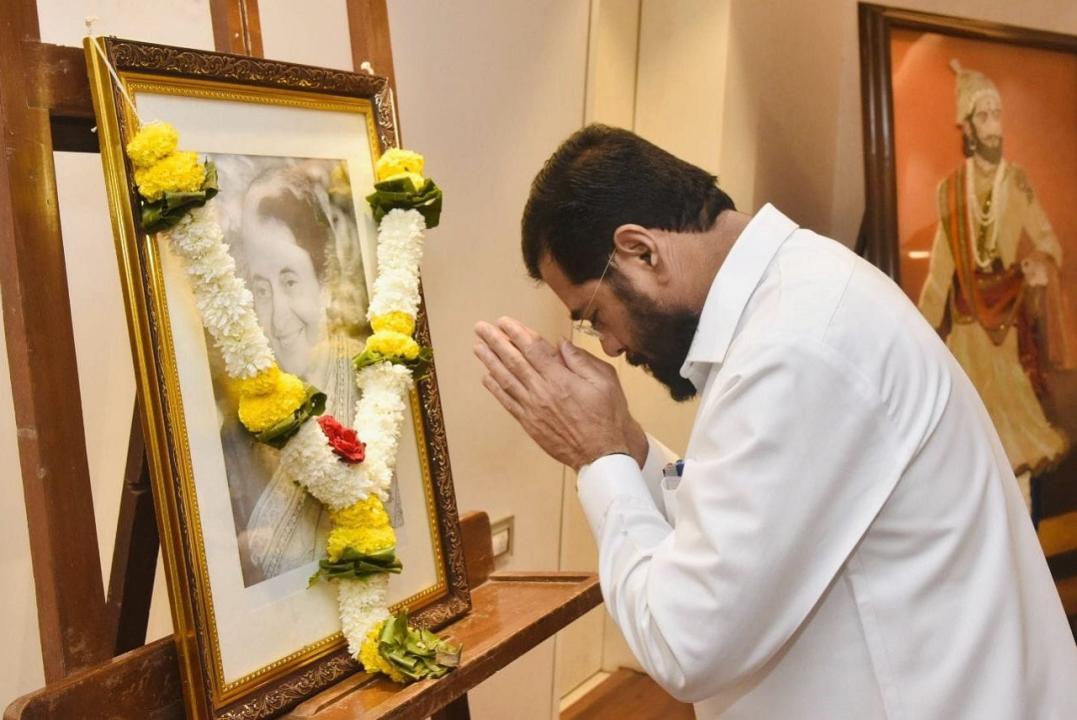 Maharashtra Chief Minister Eknath Shinde and Nationalist Congress Party (NCP) president Sharad Pawar were among prominent leaders who paid tributes to former prime minister Indira Gandhi on her 106th birth anniversary.
Eknath Shinde paid floral tributes to the portrait of Indira Gandhi at his official residence in Mumbai and administered a National Unity Day pledge to mark the occasion.
Remembering Indira Gandhi, Pawar described her as a visionary who raised India`s image abroad with her political astuteness.
"Garibi Hatao slogan was aimed at raising the standard of poor people in India," he posted on X.
Shiv Sena (UBT) leader Aaditya Thackeray posted a joint picture of his late grandfather Bal Thackeray and Indira Gandhi, saying he pays tributes to her strong and visionary leadership.
Earlier, top Congress leaders on Sunday paid rich tributes to former prime minister Indira Gandhi on her 106th birth anniversary.
Congress president Mallikarjun Kharge, CPP chairperson Sonia Gandhi and former party president Rahul Gandhi were among those who offered floral tributes at Shakti Sthal, the memorial of the former prime minister.
Sharing his childhood picture with Indira Gandhi on X, Rahul Gandhi said, "For India, a people`s leader, Prime Minister. For me, my grandmother, my teacher".
"The values ??taught by you of dedication to the country and people are the strength of my every step, the strength of my thinking!" Gandhi said in a post in Hindi.
The Congress president and CPP chairperson also participated in a commemorative programme `Indira – The People`s Prime Minister` at the Indira Gandhi Memorial at 1, Safdarjung Road.
The programme marked the life of Indira Gandhi from her childhood and listed out the achievements of her political journey. A photo exhibition and a cultural programme were also organised on the occasion.
Later Kharge, Sonia Gandhi and some other leaders paid homage to the former prime minister at her portrait in the Central Hall of Parliament.
(With inputs from PTI)