Canada Post unveils stamp to mark Diwali | India News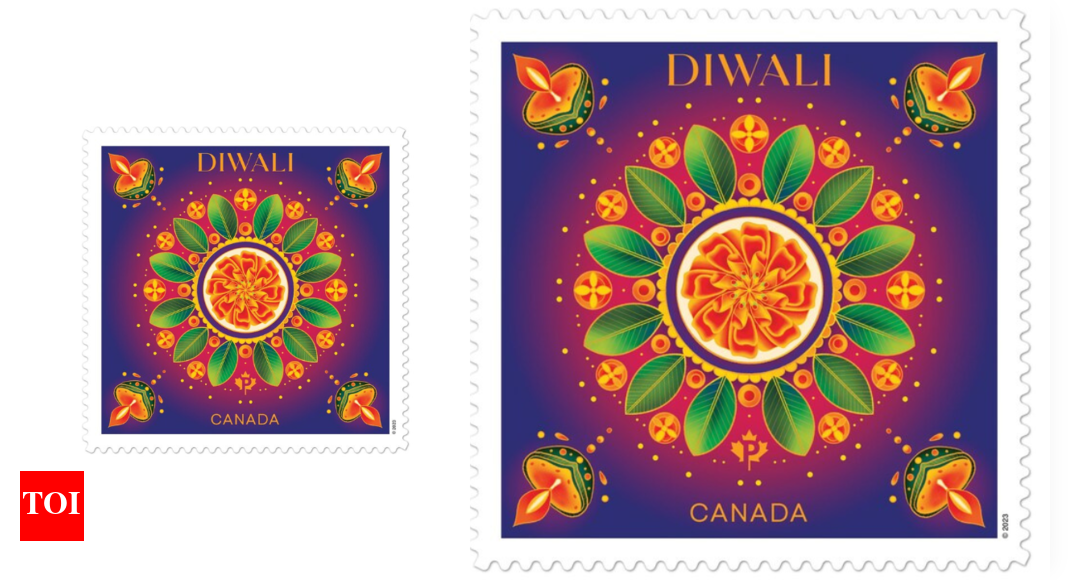 NEW DELHI: Canada Post has released a commemorative stamp celebrating Diwali for the fifth time this year. Similar stamps were previously issued in 2017, 2020, 2021 and 2022.
Designed by Kristine Do and illustrated by Rena Chen, the stamp tries to capture the essence of Diwali with its depiction of marigold flowers and mango-tree leaves. The stamp's corners are adorned with small clay oil lamps or diyas, inspired by the traditional garlands, or toranas, that embellish the entrances and facades of homes and temples during Diwali.
The Diwali stamp is available in a special booklet of six, priced at CA$ 5.52, or approximately ₹340.
Earlier, Canadian prime minister Justin Trudeau participated in the Diwali celebrations at Parliament Hill in Ottawa. The event was led by Indo-Canadian parliamentarian Chandrasekhar Arya.
The Diwali celebration at Parliament Hill occurred amidst tense diplomatic relations between Canada and India which heightened when prime minister Trudeau, in September, asserted that Indian agents were involved in the killing of Khalistani leader Hardeep Singh Nijjar in Surrey, Canada.