"Bilkul Sahi hai" crossed 100K+ Views on YouTube made by Rajasthan's Top artists Talwar Bhai and HVR – PNN Digital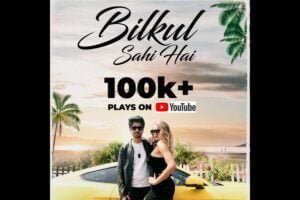 New Delhi (India), November 17: In the ever-evolving landscape of online content, achieving significant viewership on YouTube is a commendable feat. One such success story that has captured the attention of audiences globally is the release of "Bilkul Sahi Hai" by RAH-DE Production, a collaboration between Talwar Bhai, hailed as the best and biggest rapper in Rajasthan, and HVR, the most successful music producer of the region.
The Prowess of Talwar Bhai:
Talwar Bhai's reputation as the best rapper in Rajasthan undoubtedly played a pivotal role in the success of "Bilkul Sahi Hai." His lyrical prowess, distinctive style, and ability to connect with audiences through his music brought a unique flavor to the collaboration. The rapper's established fan base eagerly awaited his latest release, contributing significantly to the rapid climb in views.
HVR's Musical Mastery:
Behind the scenes, HVR, the most successful music producer and Singer in Rajasthan showcased his musical mastery in crafting the beats and melodies that accompanied Talwar Bhai's lyrics. HVR's contribution added a layer of professionalism and innovation to "Bilkul Sahi Hai," elevating it to a level that resonated with a broad audience. His track record as a successful music producer undoubtedly drew attention to the project.
Strategic Fusion of Talents:
The success of "Bilkul Sahi Hai" lies in the strategic fusion of Talwar Bhai's lyrical genius and HVR's musical prowess. Their collaboration transcended regional boundaries, creating content that appealed not only to Rajasthan but to a diverse audience across the country and beyond. This synergy of talents was a key factor in the video's widespread popularity.
Strategic Release Timing:
One cannot overlook the importance of strategic release timing, especially when artists of such caliber are involved. Talwar Bhai and HVR's understanding of their audience's online habits and preferences, coupled with their awareness of the competitive landscape, played a crucial role in the video's success. The well-timed release maximized visibility and contributed to the rapid accumulation of views.
Engaging Content Reflecting Rajasthan's Essence:
"Bilkul Sahi Hai" not only showcased the talents of Talwar Bhai and HVR but also reflected the essence of Rajasthan. The video's content, blending regional elements with universal appeal, resonated with viewers from diverse backgrounds. This cultural authenticity, coupled with the talent of the collaborators, created a unique and captivating viewing experience.
The song was released on 21st October 2023 and has achieved this milestone in less than 1 month. 
The journey of "Bilkul Sahi Hai" crossing 100K+ views on YouTube is a testament to the collaborative excellence of Talwar Bhai, the best rapper of Rajasthan, and HVR, the most successful music producer of the region. Their combined talents, strategic approach, and ability to create engaging content have not only solidified their positions as leading artists from Rajasthan but have also set a standard for regional collaborations in the digital age.
If you have any objection to this press release content, kindly contact pr.error.rectification[at]gmail.com to notify us. We will respond and rectify the situation in the next 24 hours.