A Visual Feast Awaits – PNN Digital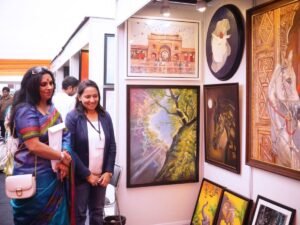 New Delhi (India), November 4: Artifire, a leading name in the world of art, is set to captivate art enthusiasts at the highly anticipated India Art Festival in Delhi, taking place from November 2nd to 5th. The event is being held in the Constitution Club of India, Delhi. The festival returns to Delhi with the promise of a visual feast, showcasing over 3,500 artworks from 400 artists across 100 booths. Within this grand artistic gathering, an illustrious ensemble of galleries takes the stage, and among them stands Artifire, radiating its brilliance.
Artifire is a renowned name in the world of art, known for its commitment to promoting artistic talent and creativity. With a passion for art that transcends boundaries, Artifire is a platform that connects artists and art lovers, fostering a deep appreciation for the beauty of human expression.
Vandana Jain, the visionary Founder and Art Director excelled in the delicate balance of her roles as a devoted homemaker and an experienced Chartered Accountant. A pivotal moment in her life came when she decided to mark her husband's fortieth birthday in a truly exceptional manner. She embarked on crafting an exquisitely detailed doodle, encapsulating the essence of his life. To her surprise, this act of affection triggered a wave of art commission requests amid the celebratory occasion.
Encouraged by friends and family, Vandana made the daring decision to bid farewell to her prosperous accountancy career, establishing her art studio. Her relentless determination drove her to seek emerging artistic talents, enabling her to manage surging orders and broaden her artistic repertoire. And that is how Artifire was born.
Artifire is proud to be a part of this remarkable artistic gathering, where the canvas is not just a medium for paint but a testament to human imagination and spirit. The India Art Festival promises to be an unforgettable experience, and Artifire invites all art lovers to join in this celebration of creativity and culture.
The eighth edition of the India Art Festival at the Constitution Club of India celebrates artistic diversity. It will exhibit a rich tapestry of artistic styles and expressions, giving a one-of-a-kind blend of art forms ranging from stylized figurative to abstract compositions, and traditional flavours to architectural grandiosity, landscapes, religious art, and wildlife art. This creative convergence promises to be a visual treat for art aficionados and experts.
"I believe that art has the power to ignite the deepest emotions within us, and through it, we can tell the most profound stories of our lives. Art is not just a form of expression; it's a journey of self-discovery and a medium to connect with the world on a level beyond words." Says Vandana Jain, Founder and Art Director of Artifire.
The India Art Festival is not just a showcase of artworks; it's an immersive artistic experience. The festival offers a multitude of fusion shows, live music performances, mesmerizing live painting demonstrations, and film screenings that promise to engage and entertain art lovers. The India Art Festival in Delhi is more than an art exhibition; it's a cultural celebration. It brings together artists, galleries, and art enthusiasts worldwide, fostering a vibrant exchange of ideas and creativity. It is an opportunity to immerse oneself in the beauty of artistic expression, to be inspired, and to appreciate the diversity of human creativity.
https://instagram.com/artifire_artthatfeelsalive?igshid=OGQ5ZDc2ODk2ZA==
If you have any objection to this press release content, kindly contact pr.error.rectification@gmail.com to notify us. We will respond and rectify the situation in the next 24 hours.