5 Times Janhvi Kapoor Slayed Neutral Shades with Elegance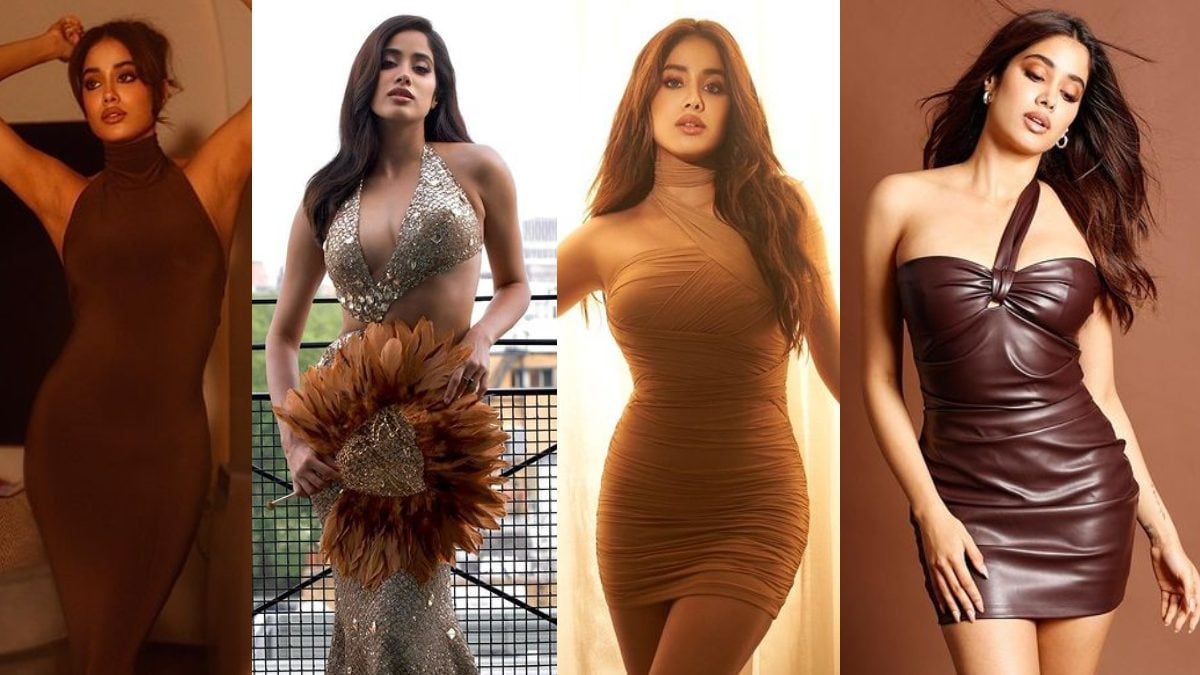 The style scene has always seen Janhvi Kapoor at the forefront of it. (Images: Instagram)
Janhvi's latest looks in a range of brown tones show off her skill at styling neutral colours and show that subdued hues can be just as eye-catching as vibrant ones.
Janhvi Kapoor has consistently been at the forefront of the style scene. The diva surely knows how to turn heads while looking effortlessly stunning. Her recent appearances in various shades of brown demonstrate a mastery of styling neutral tones and prove that these muted hues can be just as captivating as bold colors. Let's delve into some of Janhvi's stunning neutral looks.
Janhvi Kapoor in Short Brown Dress
Janhvi Kapoor exudes sheer elegance in a short brown-colored bodycon dress. The halter-neck detailing adds a touch of sophistication to her ensemble. Her makeup is a bold statement, with contoured cheeks, highlighted cheekbones, captivating brown eyeshadow, and lips adorned in a subtle nude hue. With this impeccable combination, Janhvi effortlessly showcases a perfect blend of style and glamour.
Janhvi Kapoor in Halter Neck Dress
Janhvi Kapoor looks gorgeous in a rich chocolate-colored brown dress adorned with a choker-style in cut neckline. The outfit hugs her form perfectly, unveiling her stunning hourglass figure. Her hair was fashioned into a chic messy updo, with front strands elegantly parted in the middle and framing her face like curtain bangs. Copper-coloured almond-shaped manicure added a touch of grace to her overall appearance. The warm-toned bronze makeup enhances her features, proving that simplicity can be the key to timeless glamour.
Janhvi Kapoor in Manish Malhotra Gown
Janhvi Kapoor looks like a dream in Manish Malhotra's sequin gown with a daring cut-out, plunging neckline, and intricate side cutout details. Her maharaja lion mask adds a touch of mystique to her ensemble. Elevating the drama, she layered the gown with a striking brown cape. Her mascara-laden eyelashes and enchanting brown lip color worked like magic, adding the perfect finishing touches to her already mesmerizing look.
Janvhi Kapoor in Tarun Tahiliani
Janhvi Kapoor effortlessly rocks a stunning look in a brown saree by Tarun Tahiliani, paired with a corset blouse. The modern draping of the saree and the plunging neckline of the corset-inspired blouse adds a contemporary touch. Janhvi completes her red-carpet-worthy ensemble with glamorous makeup, featuring smokey eyes, bold lips, and statement jewelry.
Janhvi Kapoor in Midi-Dress
Janhvi Kapoor captivates in a brown-colored mini dress featuring a plunging sweetheart neckline with an attached strap gracefully encircling her neck. The mini hem length elegantly showcases her legs. Complementing the ensemble, Janhvi opts for wine-red strappy embellished pumps, gold hoop earrings, and an eye-catching emerald stone ring. She completes the look with open center-parted wavy hair, a nude lip shade, eye shadow, mascara lashes, and blush.