Shaping Extraordinary Living Experiences with Creativity, Precision, and Personalization – PNN Digital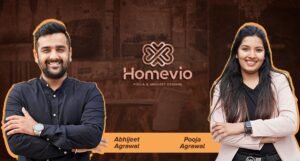 The Founders at Homevio –  Abhijeet Agarwal & Pooja Agarwal 
New Delhi (India), October 13: In a world where the spaces we inhabit profoundly influence our daily lives, Homevio stands out as a symbol of distinction, deeply devoted to the craft of interior design. At Homevio, the process of turning houses into homes goes beyond being merely a job; it's a genuine love for beauty and an enduring dedication to superb artistry.
Established by the innovative partnership of Abhijeet Agarwal and Pooja Agarwal, Homevio distinguishes itself with a distinctive approach to interior design. Pooja Agarwal, the co-founder and a talented Interior Designer is the driving creative force behind the brand. Her natural sense of aesthetics and keen attention to detail bestowed upon her the exceptional ability to transform spaces into captivating works of art. Her gift for comprehending her clients' visions and imbuing them with a unique fusion of style and functionality has rightfully earned her a well-respected standing within the realm of interior design.
Abhijeet Agarwal, the Co-founder and the linchpin of Homevio's operations, introduces a critical blend of efficiency and organization to the team. His sharp business acumen and profound insights into the industry play a pivotal role in guaranteeing the smooth execution of projects, consistently yielding outstanding outcomes. Abhijeet's attention to detail and his unwavering dedication to excellence play a crucial role in upholding Homevio's well-earned reputation for delivering impeccable service and creating unforgettable experiences.
Pooja and Abhijeet make up an exceptional team, blending their unique talents, expertise, and seamless collaboration. Their combined skills are the driving energy behind Homevio's consistent ability to craft awe-inspiring living spaces that consistently exceed the expected. Pooja's visionary designs and Abhijeet's operational excellence harmoniously come together to infuse each project with a sense of perfection and harmony.
Homevio's resolute commitment, deep passion, and unwavering dedication to their individual domains establish Pooja and Abhijeet as a powerful presence within the interior design industry. Their exceptional skills and steadfast professionalism consistently enhance Homevio's standing as a trailblazer in the creation of exceptional living spaces.
Having a proven history of 320 completed projects, 121 architectural assistances, 20 service providing and accounting for a total of 99 satisfied customers, Homevio is deeply devoted to providing remarkable living experiences. Their portfolio encompasses a wide array of interior architecture projects, each reflecting a diverse range of designs, all painstakingly created with an artistic flair and unmatched finesse. Whether you're in search of a modern haven or a timeless retreat, Homevio's core belief centers on the idea that their spaces should not only elevate your way of life but also deeply connect with your innermost aspirations.
Homevio takes a comprehensive approach that covers everything from the initial design and construction to the finer details of soft interiors. This ensures that every facet of your living space is carefully thought out and accounted for. Their teamwork-focused approach erases any issues related to communication, providing clients with a smooth and unified experience that spans from the project's initiation to its completion. It's a seamless blend of creative vision and sturdy construction, resulting in exceptional outcomes that endure the test of time.
At Homevio, they recognize that your home mirrors your individuality and preferences, and their commitment is to transform your ideas into reality. By drawing inspiration from the world that surrounds us, Homevio injects each project with a balanced fusion of artistic flair, practicality, and inventive thinking. Whether it's luxurious textures or a vibrant interplay of colors adorning the walls, every element is meticulously chosen to craft a symphony that combines beauty and comfort seamlessly.
Step into the realm of Homevio, where inspiration and inventive ideas come together to forge homes that truly connect with your inner self. Come along on this transformative adventure as they infuse vitality into living spaces and transform your dreams into a striking reality. Homevio goes beyond the ordinary, redefining the very essence of living. Here, your living space is not just a house; it's a haven of comfort, a canvas of artistry, and a place of functionality, meticulously designed to reflect your distinct style and personality.
For more information, please visit https://homevio.co/ Or for service-related queries, visit https://homevio.co/services/
If you have any objection to this press release content, kindly contact pr.error.rectification[at]gmail.com to notify us. We will respond and rectify the situation in the next 24 hours.