Renowned Philanthropist Sunil Kothari Hosts Milestone Millet Event in Collaboration with Chulalongkorn University of Thailand – PNN Digital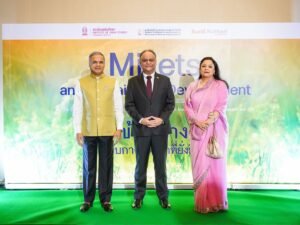 Mr. Sunil Kothari (Businessman & Philanthropist); H.E. Mr. Nagesh Singh (Ambassador of Bharat to Thailand) with wife Mrs. Pragya Singh
Bangkok (Thailand) [India], October 13: Sunil Kothari, a well-known businessman and generous philanthropist with a remarkable commitment to Bharat and Thailand, recently spearheaded an event that brought attention to the significant benefits of millets. Held in partnership with the Indian Studies Centre at Chulalongkorn University, a premium Thai institution, the event, titled 'Millets and Sustainable Development,' highlighted the ecological, economic, and health advantages of this humble grain.
Millets, often referred to as the "smart food" of the future, are recognized for their remarkable nutritional value, low resource requirements, and adaptability to various climates. Sunil Kothari's event sought to raise awareness about the untapped potential of millets and explored their role in promoting sustainable development.
The event featured insightful discussions, presentations, and interactive sessions that underscored the importance of incorporating millets into diets and agricultural practices. It brought together experts, academics, and thought leaders from both Bharat and Thailand to deliberate on how millets can contribute to ecological conservation, economic growth, and improved public health.
Sunil Kothari, who has a strong commitment to fostering cooperation between Bharat and Thailand, emphasized the scope for incorporating millets into Thai cuisine. He believes that the inclusion of millets in Thai gastronomy can not only enhance the culinary diversity but also contribute to the health and well-being of the Thai population.
Additionally, the event shed light on the potential for Bharat-Thailand collaboration in popularizing millets on the global stage. Both countries have a rich cultural heritage and a history of agriculture, making them natural allies in promoting the cultivation, trade, and consumption of millets worldwide.
Key takeaways from 'Millets and Sustainable Development' event:
1. Millets offer a sustainable and eco-friendly solution to the challenges of modern agriculture.
2. Millets are a cost-effective and nutritionally rich food source.
3. Thai cuisine has the potential to incorporate millets, offering a healthier and diverse menu.
4. Bharat and Thailand can collaborate to advocate for millets on the global platform.
Sunil Kothari and the Indian Studies Centre at Chulalongkorn University express their gratitude to all participants, speakers, and attendees for their enthusiastic engagement in this transformative event. Special thanks to Professor Dr. Suttipong Wacharasindhu, Director, School of Global Health, Faculty of Medicine, Chulalongkorn University; Associate Professor Dr. Jiruth Sriratanaban, Faculty of Medicine, Chulalongkorn University; Associate Professor Dr. Pavika Sriratanaban, Director, Institute of Asian Studies, Chulalongkorn University; Assistant Professor Dr. Jirayudh Sinthuphan, Director, South Asian Studies Center, Chulalongkorn University; Mr. Kittipong Boonkerd, Lecturer, Faculty of Arts, Chulalongkorn University; Professor Surat Horachaikul, Lecturer and Director of the Indian Studies Center, Chulalongkorn University; Mr. Panupong Charornying, Former Attorney General; Pol. Gen. Chanin Preechahanan, Former Inspector General of Royal Thai police; Professor Dr. Manisha Bose, Lecturer, Assumption University; H.E. Mr. Chutinthorn Gongsakdi, Former Ambassador of Thailand to Bharat; H.E. Mr. Nagesh Singh, Ambassador of Bharat to Thailand. Together, they envision a future where millets play a crucial role in sustainable development, global cuisine, and the Bharat-Thailand partnership.
About Sunil Kothari:
Sunil Kothari is a distinguished businessman and philanthropist known for his unwavering commitment to social causes and cross-cultural collaborations between Bharat and Thailand. His initiatives have made a significant impact on the communities he serves, reflecting his dedication to creating a better, more sustainable world.
About Chulalongkorn University:
Chulalongkorn University, often referred to as the "Harvard of Thailand," is a prestigious institution known for its academic excellence and contributions to society. The Indian Studies Centre at Chulalongkorn University promotes cultural understanding and academic exchange between Bharat and Thailand, fostering valuable partnerships and research opportunities.
If you have any objection to this press release content, kindly contact pr.error.rectification@gmail.com to notify us. We will respond and rectify the situation in the next 24 hours.