Is SoBo ready for Mumbai Trans Harbour Link Road?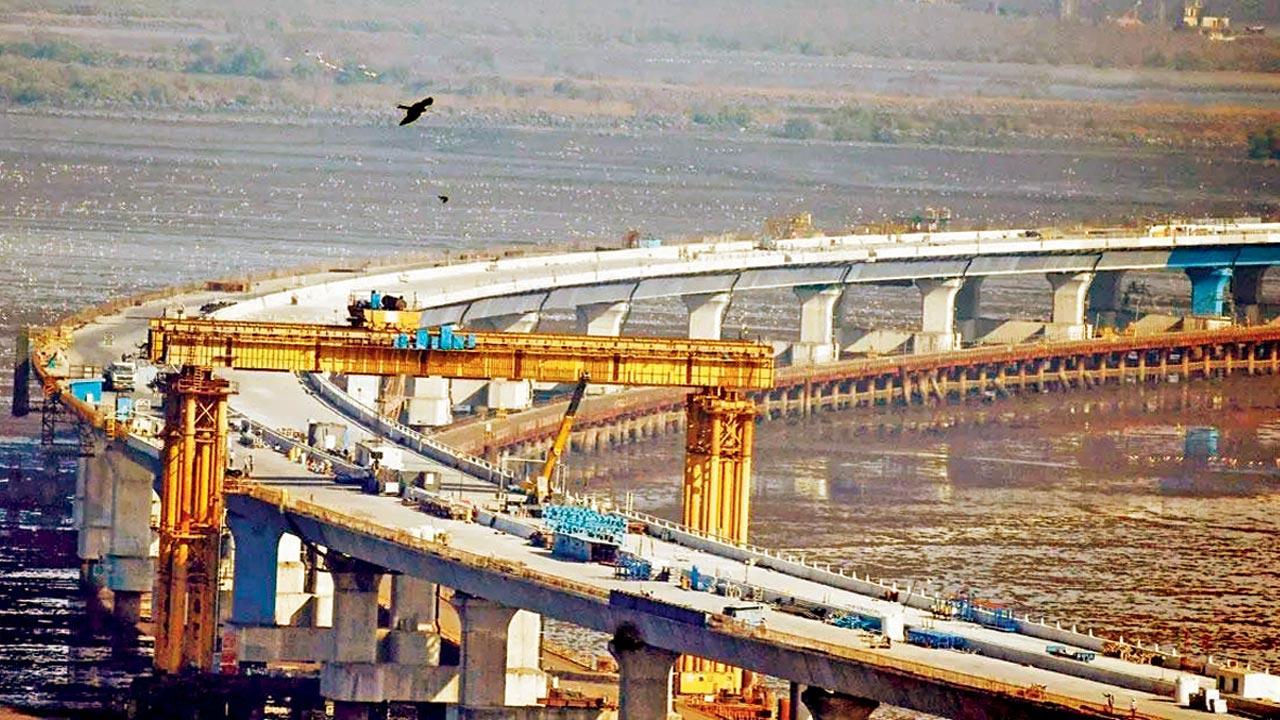 With key south Mumbai bridges either shut for repairs or partially open, and the Mumbai Trans-Harbour Link (MTHL) set to open on December 25, citizens and activists fear that there be chaos on existing roads as there will be a huge influx of vehicles from the MTHL onto the city's internal roads. The BMC, however, has said that the Delisle Road bridge at Lower Parel will be opened this week and other city bridges are being worked upon.
According to activist Kamlakar Shenoy, once the new trans-harbour link from Sewri to Ulwe/Chirle opens by December 25, there will be a daily influx of 70,000 vehicles towards Mumbai, with 80 per cent of the traffic projected to converge on P D`Mello Road and Sardar Vallabhai Patel Road which connects the Eastern Freeway to Chowpatty. "A number of bridges in south Mumbai are either shut or open partially as they are new or under repairs. It will be a cause for worry," he said.
"Starting from south Mumbai, the Carnac Bunder bridge at Masjid Bunder has been demolished… the approaches to Hancock Bridge at Byculla are still under works while at the Lower Parel, the Delisle Road bridge is also only partially complete. Work is also underway on the Byculla Bridge while the bridges at Sion, Parel and Belasis Road (Mumbai Central) are set to be demolished. How and where are we going to accommodate an influx of so many vehicles? What preparations have been made to address such heavy traffic after December 25 from P D`Mello Road to S V P Road and all other nearby roads?" Shenoy questioned.
The MTHL, connecting Serwi to Navi Mumbai, is set to be opened in December. File pic
Jitendra Gupta of the Citizens Transport Committee who shared similar concerns, raised questions on the connectivity of the trans-harbour link to the expressway. "If it is well connected then there should be some relief. But another question is, how good and time-saving would it be for traffic from eastern and western suburbs to use trans-harbour link? If there is no benefit to these areas the traffic from such areas would continue to use the old route via Navi Mumbai," he said.
According to Gupta, it is important to have a study to find out traffic from which areas is likely to use the new link. "If it's only traffic from town side areas plus traffic up to Dadar-Matunga-Sion or Mahim, then this new bridge hardly matters to other parts of the city," said Jitendra Gupta, Citizens Transport Committee.
P Velrasu, additional municipal commissioner (projects) said the Delisle Road bridge will open this week and other bridges are in various stages of construction. "The Delisle Road bridge will be totally open this week. The approaches of Hancock Bridge at Sandhurst Road have been delayed due to rehabilitation issues of MHADA buildings. As for Carnac Bridge at Masjid Bunder, fabrication work is already underway and the Byculla road bridge is also being built by the Maharashtra Rail Infrastructure Development Corporation," he told mid-day.
The MTHL, also known as Sewri-Nhava Sheva Trans Harbour Link, (officially Shri Atal Bihari Vajpayee Trans Harbour Link) is an under-construction sea bridge that is expected to accommodate about 70,000 vehicles on a daily basis. The Mumbai Metropolitan Region Development Authority (MMRDA) is the nodal agency for the project. As per MMRDA, the 21.8-km-long, six-lane access-controlled bridge from Sewri in Mumbai to Chirle in Navi Mumbai has three interchanges. One interchange is at Sewri in South Mumbai, connecting MTHL to the Eastern Freeway (Mumbai Side); the second is at Shivaji Nagar in Ulwe, connecting MTHL to the Navi Mumbai Coastal Road Project; and the third is at Chirle interchange—where one arm will connect with State Highway-54 and the second arm will connect the NH4 Mumbai-Pune Highway.
December 25
Day MTHL is set to open
24.8km
Total length of MTHL