IND vs NZ Semi-final: Of fans, fervour and some fury near Wankhede stadium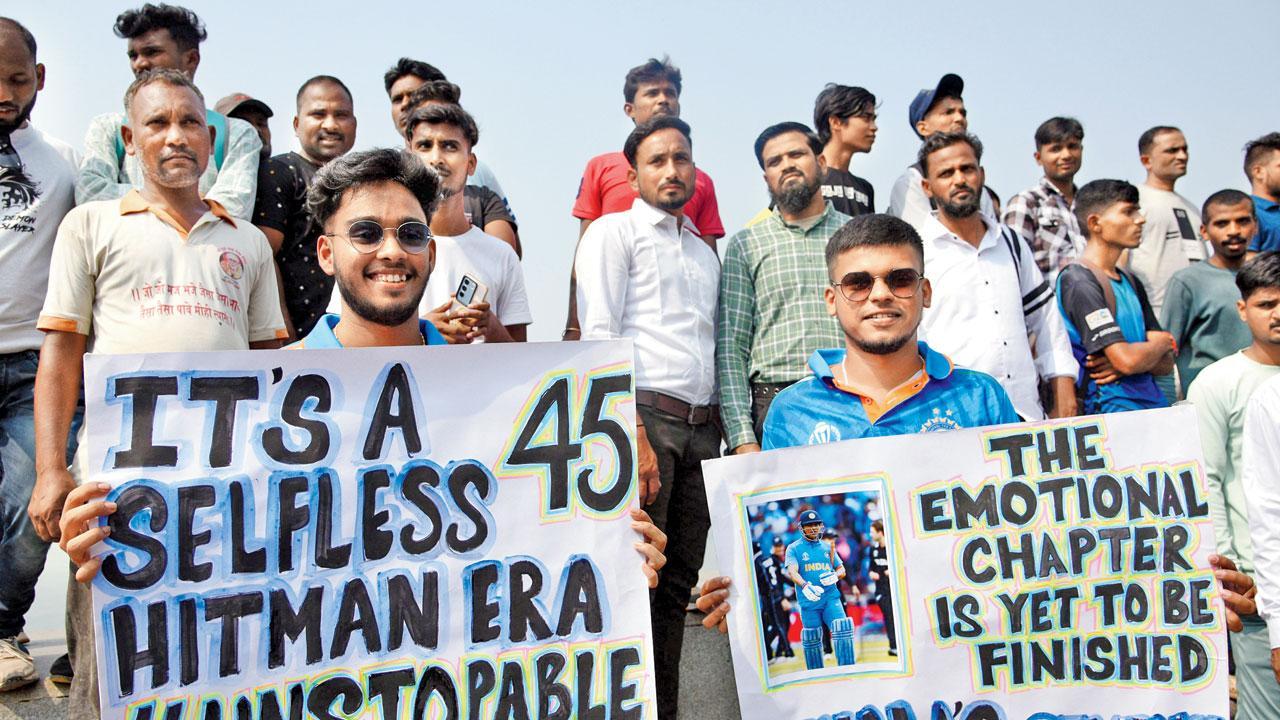 The Wankhede stadium burst into rhyme as spectators trickled in the pre-semi match. Our poets in the stands chanted Sachin, (referring to retired maestro) Tendulkar of course and Rachin referencing New Zealand's Rachin Ravindra. Cries of 'Sachin-Rachin, Sachin-Rachin' rang out, till the crowd went ballistic as they realised football superstar David Beckham was in the stadium. A witty observer pointed out as he saw Beckham with Ravi Shastri at the Wankhede, "In aamchi Mumbai, you don't Bend it like Beckham but hit it like Shaz!' Aiga!" like some of our cricketers say.
Muscat Miles
Sanil Sampat was over the moon and into the aircraft as he learnt he had a ticket for the semi-final at Wankhede. The Muscat resident, who has been following the Indian team during the World Cup said, "I booked my flight as soon as I got a ticket just a day ago, and, I am here from Muscat to Mumbai, for the semi-final! I have been following all India matches through the World Cup, and super thrilled at the turbo-charged atmosphere. Like all India fans, I want the Boys in Blue to make this Win-khede from Wan-khede, but let us, we must remember, this is a game above all." This cricket aficionado was smile every mile as the aircraft winged its way to the metropolis. Sanil whose name is an amalgamation of Sunil Gavaskar and Sachin Tendulkar said, "The Indian cricket team have their World Cup journey, and I as a fan, have mine."
Buy high
Talking about fans, the India team blue t-shirt was selling at Formula 1 pace at Churchgate station yesterday afternoon. Even as Virat Kohli and Shreyas Iyer were sending the ball into oblivion, train commuters were clamouring around on the station staircase, near where India's blue T-shirts were on sale. The hawkers, in fact, were selling wristwatches and shirts, but today, there seemed to be no time (pun intended) for watches, as people were crowding around for the T-shirts. The seller who gave his name as 'Ahmed' said, "I usually sell wristwatches, this is my spot at the station. For a week though, I am selling these India T-shirts. I sell 20 to 25 T-shirts a day. Today, has been different though," he laughed delightedly, as another man helping at the stall said, "Dhamaka like India innings." Ahmed said, "We have sold nearly 70 T-shirts as of now, and the first half is not even over. Most buyers want shirts with Rohit Sharma or Virat Kohli emblazoned behind." The hawkers stressed that "We sell our T-shirts for Rs 250 each all through. Just because we have a semi-final here, does not mean we will hike our prices. We do not take these unfair advantages," they stressed earnestly. Ethical business practices, one can certainly learn from the humble too.
Trunk call
It was all about the blues on Wednesday but then, the greens were on a mission too. We are talking about the environmental Non-Governmental Organisation called, 'Mission Green Mumbai'. Subhajit Mukherjee, founder, claimed that Mission Green has vowed "Win or lose, for every boundary in the World Cup (four or six) by India, we will plant a tree in the city. The venue will be Malad, and we will plant one fruit tree for every boundary. Volunteers are keeping count." From bounda-trees to fruit trees, more reason for the big shots to bloom 'n' boom.
Black track
New Zealand are known as the Black Caps, but this was black days and black overall for a number of fans, pacing outside the Wankhede anger and disappointment writ large on their faces. Suvodim S M from Hyderabad holding a placard stating he wanted a ticket said, "I have been to seven cities this World Cup, and now I have not managed a ticket in Mumbai." We were at least one hour into the match as he said, "I am still hoping…" The police posse kept a wary eye, as the fury floodgates opened. Several persons crowded this reporter shouting, "Black, black all in black. Tickets are going for as high as Rs 50,000. Can you believe it?" they shouted.
"The stadium is empty inside but tickets have been bought at prices like Rs 2,500 to 3,000 and are being sold at Rs 30,000. What is going on?" they asked. There were locals from Wadala, Sion, Kalyan and fans from Surat and Lucknow too, some coming in near the Wankhede for three days. Some said, "The poor do not have this kind of money." Another beat his chest and screamed, "We have no money but we have junoon (crazy obsession) for cricket. Listen to us." By now, a number of people were shouting, "Media, send a message, you can change the situation."
Another man stepped up amidst the frenzy stating, "I am Ramesh Mali from Rajasthan. I once cycled from Rajasthan to Mumbai for a match." A young man claimed he was here from Lucknow. Some were close to tears as they asked, "We wanted to see Rohit Sharma the Badshah. When will India host a World Cup again?" they asked, telling yours truly to call them if tickets can be "managed by the press". As one walked away with the cops looking on at the scene one frenzied man screamed, "Online, online, it is all a sham. This online is all …….giri (unprintable)." We say cricket authorities investigate and take note. Fans are your lifeblood. Here, there seemed to be some slips and not just one gaali.
Rs 250
Price of the T-shirts sold outside stadium