Cyfuture's "Project Pradháv" Illuminates the Lives of Underprivileged Children – PNN Digital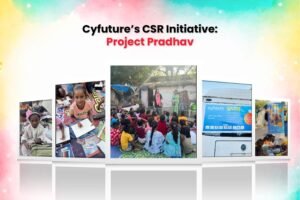 Cyfuture announces the execution of 'Project Pradháv'
New Delhi (India), October 13: Cyfuture proudly announces the triumphant execution of "Project Pradháv," a deeply meaningful initiative dedicated to bringing warmth and cheer to the lives of underprivileged children. Through a spectrum of engaging activities encompassing Arts & Crafts, music, dance, storytelling, and reading, this project reflects Cyfuture's steadfast commitment to instilling positivity in the lives of those who face adversity.
On the 6th of October, 2023, a remarkable chapter of "Project Pradháv" unfolded in the heart of Vaishali's slums, where approximately 50 children, ranging in age from 5 to 16, eagerly assembled to partake in the day's activities. Their unwavering enthusiasm was a testament to the resilience and spirit that resides within them, defying the challenging circumstances they confront on a daily basis.
The catalyst behind this heartwarming connection was Mr. Pankaj Khandpal, a compassionate soul with a background in logistics and administration. Upon our arrival, Cyfuture volunteers were greeted with radiant smiles and expressions of gratitude, underscoring the depth of their appreciation for the attention they were receiving.
The day commenced with introductions and a series of ice-breaking activities that facilitated bonding among all participants. Drawing books and a colorful array of pens were distributed to the children, encouraging them to illustrate that which brings them happiness. This exercise sought to unearth their perceptions of life, emphasizing that even amid trying circumstances, there are facets of existence that inspire joy.
Astoundingly, a majority of the students chose to depict the Indian Flag, eloquently stating that it symbolized their love for their homeland, India. One young artist tenderly crafted three roses, each bloom representing one of the visiting volunteers. This poignant gesture vividly underscored the profound compassion that resides within these underprivileged children, inspiring us to redouble efforts in supporting them and amplifying their potential.
To further enliven the atmosphere, Cyfuture volunteers distributed refreshments in the form of juice and snacks, which elicited a burst of enthusiasm and revealed hidden talents. A select group of children showcased their vocal prowess through melodious songs, while others dazzled the gathering with their remarkable dance performances. Cyfuture volunteers enthusiastically joined the children in their rhythmic revelry, ensuring that the room was filled with smiles and laughter, a testament to the transformative power of compassion.
As Project Pradháv motto boldly proclaims, "Let's show them we care." This slogan underscores Cyfuture's unwavering commitment to not only professing their care but also translating it into substantive actions that uplift the lives of these deserving children. For further insights and information about Project Pradháv, along with updates on our ongoing initiatives, kindly follow the link:  https://cyfuture.com/csr.html
About Cyfuture
Cyfuture, a multinational entity, has been providing cutting-edge digital services for over two decades. The company operates across 20+ locations in India and abroad, offering a range of services including Data Centre & Hosting, Cloud services, Digital Marketing, Application Development, Managed Services, and BPO. Cyfuture also deals in futuristic technologies such as Blockchain, Big Data Analytics, Artificial Intelligence & Machine Learning, IoT, and much more.
Cyfuture's modernized Tier III, MEITY-empaneled data centers are equipped with state-of-the-art hardware to deliver exceptional data center, outsourcing, and hosting services to clients. The company uses its proprietary IVY method to ensure clients receive outstanding services. As a CMMI Level 5 company and PCI DSS compliant, along with ISO certification, Cyfuture has established itself as a trusted provider of digital services.
With a physical presence in over 20 locations in India, the USA, and the UK, Cyfuture has established itself as a global leader in digital services. The company's commitment to delivering world-class services has helped it build long-lasting relationships with clients across various industries.
As the demand for digital services continues to grow, Cyfuture remains at the forefront of innovation, leveraging its expertise to help businesses of all sizes achieve their digital transformation goals. With its state-of-the-art data centers and a team of experienced professionals, Cyfuture is well-positioned to deliver exceptional digital services to clients worldwide.
Read more:
If you have any objection to this press release content, kindly contact pr.error.rectification@gmail.com to notify us. We will respond and rectify the situation in the next 24 hours.