Chandni Devgan as showstopper for Vastram at Dehradun Fashion Week & Lifestyle Show 2023 – PNN Digital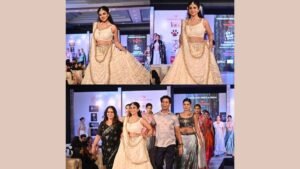 New Delhi (India), October 4: The Dehradun Fashion Week & Lifestyle Show 2023 witnessed a dazzling display of style and creativity, bringing together top designers from all over India. The highlight of the event was the stunning appearance of the talented Chandni Devgan, who graced the runway as the showstopper for the renowned designer duo Preeti & Vishal, presenting their exquisite collection, "Vastram."
Preeti & Vishal's "Vastram" collection is a celebration of the rollercoaster moods of Indian women, capturing the essence of their resilience, strength, and grace. The runway came alive with an enchanting fusion of colors, fabrics, and designs that paid homage to the multifaceted nature of Indian women. The collection was a testament to the fact that, regardless of life's ups and downs, women always represent beauty with grace.
Chandni Devgan, known for her elegance and charisma, added a touch of ethereal charm to the showcase as the showstopper. Her presence on the runway was a sight to behold, leaving the audience in awe. With her graceful walk and mesmerizing poise, Chandni Devgan truly embodied the spirit of the "Vastram" collection.
Speaking about her experience as the showstopper, Chandni Devgan said, "It's an absolute honor to have been a part of the Dehradun Fashion Week & Lifestyle Show 2023 and to represent the incredible work of Preeti & Vishal. Their 'Vastram' collection is a tribute to the strength and beauty of Indian women, and I am thrilled to have been able to bring their vision to life on the runway."
The Dehradun Fashion Week & Lifestyle Show 2023 was a grand success, attracting fashion enthusiasts, industry experts, and media from across the country. The event showcased the finest talent in the Indian fashion industry and offered a platform for designers to express their creativity and innovation.
Preeti & Vishal's "Vastram" collection, with Chandni Devgan as the showstopper, undoubtedly left a lasting impression at the Dehradun Fashion Week & Lifestyle Show 2023. It celebrated the essence of Indian womanhood and showcased the incredible talent and creativity that India's fashion industry has to offer and fashion enthusiasts from all over India. It serves as a platform for showcasing the latest trends and innovations in the fashion industry.
About Preeti & Vishal: Preeti & Vishal are renowned fashion designers known for their unique and exquisite collections. With a passion for celebrating Indian culture and creativity, they have consistently delivered stunning designs that resonate with modern and traditional sensibilities alike.
About Chandni Devgan: Chandni Devgan is a prominent figure in the world of fashion and entertainment, known for her grace and elegance. She has graced numerous runways and is celebrated for her contribution to the fashion industry.
If you have any objection to this press release content, kindly contact pr.error.rectification[at]gmail.com to notify us. We will respond and rectify the situation in the next 24 hours.