BJP releases movie poster on X, casts Rahul Gandhi as 'Ravan'; George Soros is director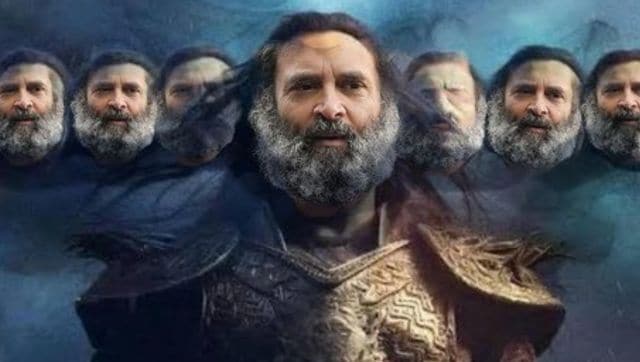 The Congress-BJP rivalry is taking ever new twists and turns in the run-up to the 2024 Lok Sabha elections. The saffron outfit Thursday portrayed Rahul Gandhi as "new age Ravan" on its X (previously Twitter) handle.
Rahul Gandhi is the "new age Ravan," said BJP in its latest attack, linking him with BJP-baiter and billionaire George Soros, who has been accused on several occasions for having interfered with the electoral process of many countries for ideological reasons.
On X, BJP put out a poster showing Rahul Gandhi as Ravana's avatar.  The Gandhi scion was shown with 10 heads.
"The new age Ravan is here. He is Evil. Anti-Dharma. Anti-Ram. His aim is to destroy Bharat," BJP wrote alongside the poster.
The text on the image reads:
"Ravan
A Congress party production
Directed by George Soros."
Soros is a Hungarian-born American businessman and financier, who is also a vocal critic of Prime Minister Narendra Modi. He has been repeatedly slammed by the BJP over attempting to intervene in "India's democratic processes." He is also been accused of running several anti-India propagandas.
Apart from the poster showing Rahul Gandhi as Ravan, the BJP has also released the around 4-minute video 'ghamandiya' files.
घमंडिया फाइल्स के चौथे एपिसोड में देखिए…

TMC के शासन में बंगाल में चुनाव जीतने के लिए कैसे उड़ाई जाती है लोकतंत्र की धज्जियां,
मारपीट, हत्या और बलात्कार से गांव-गांव तक फैला है ममता बनर्जी के कार्यकर्ताओं का खौफ। pic.twitter.com/w4SVm3HzY7

— BJP (@BJP4India) October 5, 2023
In the video, the fourth episode of 'ghamandiya files', BJP has targeted the Mamata Banerjee-led government in West Bengal and said under the TMC regime the "democracy is being flouted to win elections with assault, murder and rape in every village."