AMU students organise march is favour of Hamas after deadly terror attack in Israel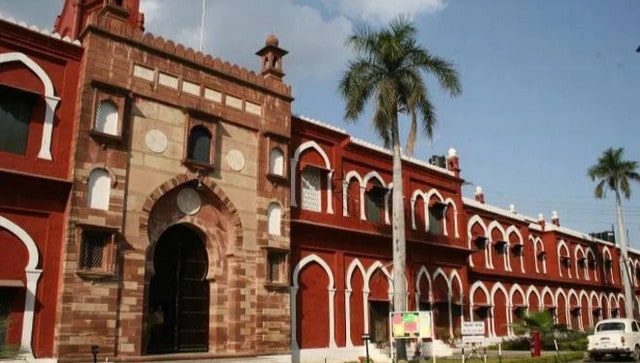 Scores of students of Uttar Pradesh's Aligarh Muslim University (AMU) took out a march in support of Hamas terrorists and shouted slogans in support of Palestine. The protest came within hours after the terrorist organisation made a surprise attack on Israel that claimed lives of over 700 people of the country.
Israel has announced war against Palestine after Hamas attacked Israelis.
In the viral video of AMU students protesting, some are seen holding placards in their their hands and marching on the streets of Aligarh.
'We Stand with Palestine', 'This land is Palestine, not Israel,' read the posters the AMU students were carrying as they raised slogans such as "We stand for Palestine, AMU stands for Palestine" along with other religious slogans.
Talking to media, protesting AMU students said the way in which the atrocities are being committed against Palestinians is not right. They even held Israel responsible for the alleged atrocities being carried out in Palestine.
India condemns Hamas attack on Israel
India has strongly condemned the unprecedented attack by "Hamas terrorists" on Israel.
Prime Minister Narendra Modi expressed solidarity with Israel, saying India stands with the country at this hour of conflict.
"Deeply shocked by the news of terrorist attacks in Israel. Our thoughts and prayers are with the innocent victims and their families. We stand in solidarity with Israel at this difficult hour," the Indian Prime Minister said.
Israel-Hamas War
On Saturday (October 7), Hamas terrorists attacked Israel by firing over 5,000 rockets and then infiltrated its border. Armed militants infiltrated the border in Southern Israel and attacked the civilians.
Israel retaliated and its fighter jets bombed the city and turned many towers and buildings into ashes.
Over 1,100 people have lost their lives, so far, as the Israel-Hamas war continues to escalate. In Israel, more than 700 people, including 44 soldiers, have lost their lives. The worst affected cities in Israel include Tel Aviv, Ofakim, Sderot, Yad Mordechai, Kfar Azza, Beri and Kisufim.
According to Israeli Defence Forces (IDF), Israel has hit more than 800 targets in Gaza till now, including airstrikes that reduced much of Beit Hanoun to rubble.
Officials have reported at least 413 deaths in Gaza so far.
With inputs from agencies